bANANA sMOOTHIE - hAIR mASK tREATMENT
bANANA sMOOTHIE - hAIR mASK tREATMENT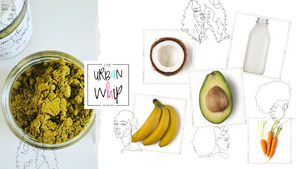 Our hAIR + sCALP tREATMENTS are quick yet highly potent, effective way to provide your hair with tons of health benefits. Think of these hair mask treatments like high powered hair cleansing conditioners, that give your hair benefits like softening and hydrating, a boost to grow, adding shine, and even fighting off infections. We've decided to go straight to the old school Mother Nature route for our hair mask treatments. This collection of hair masks offer, all-natural ingredients that come straight from the Earth. These treatments we have carefully formulated to help nourish, protect, and moisturize your hair.

This hAIR tREATMENT is inspired by the old school banana hair mask deep conditioning treatment my grandmother used on my mom and then in turn my mom used on myself... Which I have been also applying to the hair of my lovely daughters.

To use: In a bowl add 1 teaspoon of your hair mask (2 teaspoons if your hair is very long or thick) with 1 tablespoon of warm water or Aloe Vera Juice. Mix the water and the hair mask together and press out all of the lumps. Add up to 1 Cup of your favorite moisturizing conditioner and/or 1 cup of your blended fresh ingredient like banana or a DIY deep conditioning hair smoothie recipe. Mix, press out or blend well to a consistency of baby food and strain. The amount of active ingredient depends on the length and thickness of your hair. Apply mix individually on each section, all the way down to the ends. Comb with wide tooth comb or fingers from ends to scalp. Leave in for minimum of 1 hour. Cover your head with a cap. Optional: Sit under a hairdryer for at least 20 minutes for deeper penetration. use as a Pre-poo treatment before washing with shampoo or Co-wash hair in sections 2-3 times with a conditioner, using cool water to make sure all ingredients are out of your hair. Use an old t-shirt or one of our jERSEY kNIT hair towels to squeeze excess water out of your hair. Apply leave-in conditioner

Natural hair mask made from our in-house freeze-dried and dehydrated fruits, Plants, Herbs and Vegetables, stocked with beneficial ingredients that will restore your hair and soothe your scalp

iNGREDIENTS: Carrot, Banana, Avocado, Honey, Kaolin Clay, Buttermilk, Yogurt, Hibiscus, Slippery elm bark, Coconut Flour, Besan, Coriander, Horsetail herb, Okra, Nettle leaf, Rosemary, Sage, Pistachio, Vanilla bean, Aloevera, Saw Palmetto


____sPOTLIGHT iNGREDIENTS_____

Avocado is a great source of biotin, and adding this B-complex vitamin back into the diet may help hair to grow more healthily. A 2015 study found that minerals in avocado oil, including potassium and magnesium, may seal cuticle cells, which can help hair look smooth and shiny and prevent it from breaking.

Rosemary - Not only does rosemary reduce hair fall, it can also give way to hair growth due to its ability to keep the nerves healthy. It contains carnosic acid, which is known to have a healing effect in the case of nerve damage. Due to this, rosemary can provide your scalp with the nourishment it needs for growth.

A combination of antifungal and decongestant properties, rosemary is perfect to help you deal with dandruff. Not only does it keep your scalp clear of fungus, which can give way to dandruff but will also eliminate excess oil. A clean scalp ensures you steer clear of dandruff and keep your tresses healthy.

Rosemary is known to improve blood circulation. When the circulation in your scalp region increases, it can potentially strengthen the hair follicles and reduce hair loss.

Horsetail - Strengthens and improves the elasticity of the hair fiber, helps regulate the hair growth cycle and reduces inflammation.

Sage can aid in the regeneration of new hair follicles. Sage can help to improve the circulation of blood to the scalp, which in turn helps to nourish the hair follicles. Using sage regularly can help to improve the overall quality of your hair and rejuvenate dry or thinning hair.

Aloe vera contains vitamins A, C, and E. All three of these vitamins contribute to cell turnover, promoting healthy cell growth and shiny hair.

The ripe banana peels are rich in potassium that helps remove yellow stain has a result of food consumption. Hair Health: The antioxidant in banana peels neutralises free radical that keeps your hair strong and healthy. It also makes your hair soft and shinier.

Nettle leaves are rich in silica and sulphur. This helps in making hair shinier and healthier.

Okra is rich in vitamins A, C, and K and has calcium, potassium, and lots of other nutrients that are great for hair growth, moisturizing a dry scalp, and getting rid of dandruff

Slippery Elm - The amino acids in slippery elm bark will encourage circulation to the roots of the hair and the hair follicles. It can encourage new and healthy growth, while adding shine and sheen to lackluster hair. The iodine can help prevent excess hair loss and will encourage softer curls and coils

Pistachio helps make hair stronger and shinier. This is because it is rich in biotin. Biotin essentially helps combat hair loss and also nourishes dry hair by making the hair strands more flexible.

Carrots have been found to have anti-bacterial and anti-fungal properties that help fight bacterial or fungal infections on the scalp and keep the scalp healthy and clean. Carrots also help stimulate the production of natural oils on the scalp, which helps protect scalp cells and treat dry scalp and dry hair issues.

Carrot seed essential oil is known as a skin detoxing oil wonderful for rejuvenating the skin and softening wrinkles. Although it is most popular in anti-aging products, it also helps heal eczema, psoriasis, dermatitis, and other skin rashes and irritations.

Hibiscus keeps hair healthy and conditioned, thickens and volumizes hair, treats dandruff, prevents split ends, and decreases hair loss

Besan balances oil in your scalp and prevents oiliness or dryness. Gram flour makes your hair follicles strong which further improves hair growth. Using besan on your hair regularly adds volume to your hair and makes them look healthier. Besan is a go-to solution for hair loss, hair thinning, and dandruff

Kaolin clay has been used to help calm and cleanse the scalp, balance oil production, and smooth damaged hair.

Yogurt contains probiotic bacteria that promote hair density. It increases the anagen phase of hair follicles. This also helps boost hair growth. It improves scalp health and reduces the clogging of follicles, thus reducing hair fall and hair damage.

Coconut Flour - The lauric acid in coconut oil has nourishing properties that are especially prone to soak into the strands of your hair. Coconut oil absorbs into your hair quickly, providing moisture to tame frizz and heal breakage.

Buttermilk - It helps in strengthening the hair follicles and gives your hair a natural shine. It cleanses the scalp to keep your head clean. It fortifies your hair. Buttermilk contains essential proteins that deeply nourish the hair and boost the growth of new hair

Honey has both emollient and humectant properties, making it a great hair moisturizer. Emollients smooth the hair follicles, adding shine to dull hair. Humectants bond with water molecules, adding moisture to dry strands. By moisturizing and locking in shine, honey can help restore the natural luster of your hair

Saw Palmetto - Prevents hair loss: By potentially preventing the body from converting testosterone into DHT, saw palmetto may prevent hair loss.