cARROT cREAM hAIR mASK tREATMENT
cARROT cREAM hAIR mASK tREATMENT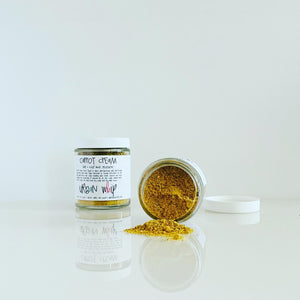 lET uS gET iNTO tHESE iNGREDIENTS and tHEIR bENEFITS!!! 
____sPOTLIGHT iNGREDIENTS_____
Rosehip is enriched with Vitamin C, which is a powerful antioxidant. The antioxidant property of the oil helps to fight the free radicals, which cause cell damage. Therefore, applying rosehip oil on the hair keeps the hair cells young by fighting the free radicals, thereby preventing hair-loss as well. It is an established medical fact that deficiency of vitamin C can lead to serious hair-loss problems.
Apart from vitamin C, rosehip is also fortified with essential fatty acids such as oleic acid and linoleic acid. Oleic acid is an omega9 fatty acid, which is an important component of the cell structure and, is crucial for optimal cell functioning. Linoleic acid is an omega6 fatty acid, which is important for hair growth. Deficiency of either of the omega-n fatty acids can lead to dryness and brittle hair. Additionally, their critical ratio present in the body system also determines the functioning of the omega 3 fatty acids, which as we all know is associated with health and wisdom.
Another benefit of applying rosehip on the hair is that it has deep moisturizing properties, which helps to prevent scalp dryness and hair-problems manifesting there from.
The presence of retinol or retinoic acid in rosehip oil again turns to be advantageous for hair care. Retinol has anti-aging properties, which help to rejuvenate the skin-cells. It is by the virtue of this property the oil helps to heal scars because it helps in the "turnover" of skin cells. Retinol also protects the skin cells from damage due to exposure to UV radiation. So yet again, the hair gets a protective coat from rosehip.
Carrot seed essential oil is known as a skin detoxing oil wonderful for rejuvenating the skin and softening wrinkles. Although it is most popular in anti-aging products, it also helps heal eczema, psoriasis, dermatitis, and other skin rashes and irritations.
Carrot seed essential oil is wonderful for hair because it balances and maintains moisture in the hair and scalp, and strengthens and conditions hair while preventing split ends.
Fennel Seed treats dandruff, soothes itchiness and bumps on the scalp, prevents hair breakage, and also treats shedding of the hair strands.
Slippery Elm Bark has a high content of procyanidins that improves the strength of hair and makes it tensile, promotes healthy hair growth and improves the volume of hair, detangles the hair due to the slippery nature, making it soft and smooth. Eliminates dandruff as well as Treats dry, dull and damaged hair.
Slippery elm is quite rich in calcium, which is essential for strengthening the hair. The presence of Amino acids encourages the growth of strong and healthy hair. It is responsible for the creation of red blood cells, which helps in the delivery of required nutrients to the hair
Biotin, also known as vitamin B7, stimulates keratin production in hair and can increase the rate of follicle growth.
Wheat germ is beneficial for the scalp and encourages strength and elasticity of each strand. At the same time, nourishing vitamin E and lecithin act as building blocks to make your hair act strong and look healthy. The essential fatty acids of wheat germ oil are said to help to strengthen hair's root and follicle.
Flaxseeds contain omega-3 fatty acids, which give vital proteins and nutrients to hair follicles, boost circulation in the scalp, and inhibit hair follicle inflammation that induces hair fall. Flaxseeds contain vitamin B and are rich in biotin, riboflavin, niacin, pyridoxine, pantothenic acid, and folic acid, which are responsible for increasing hair growth making hair stronger. Flaxseeds contain vitamin E, which diminishes the influence of free radicals on your scalp and improves hair growth and stronger hair follicles.
They help soothe the scalp as the omega-3 fatty acids help reduce scalp inflammation. Flaxseeds keep your hair conditioned as they bind moisture to the hair shafts, controlling breakage, dryness, and frizz, leaving the hair remarkably sleek and shiny. Flaxseeds adjust the pH levels in your hair as flax seeds help tranquilize the sebaceous glands so that they produce the proper quantity of oil for your hair.
Banana is widely used in hair care products such as conditioners and hair creams for its strong moisturizing properties, making hair baby soft and so much more manageable. Along with vitamin C and B complex, it is abundant in calcium, phosphorus, iron and other minerals. And famous for its nourishing potassium, it is the perfect remedy for hair damaged by processing treatments, such as coloring or straightening.
Amla - The phyto-nutrients, vitamins and minerals present in amla help in increasing the scalp circulation and stimulate healthy growth. Vitamin C of amla produces collagen protein. This helps in stimulating hair growth, both length and volume wise. Collagens replace the dead cells of hair follicles with new hair cells
Calendula contains a high amount of falconoids, which are plant-based antioxidants that protect the body against cell-damaging free radicals. Calendula has anti-inflammatory, antiviral, and antibacterial effects. Soothes irritated scalp, and improves the condition of the scalp and hair.
Fenugreek Seeds are a good source of protein and nicotinic acid that strengthen the hair shaft and prevent breakage.
Flaxseeds are full of essential nutrients – such as protein, iron, calcium, zinc, and magnesium – which are important for healthy hair growth and strength. A daily dose of flax seeds will keep you and your hair vibrant and beautiful. Omega-3 nourish the hair follicles, making hair strong and healthy from the outset. It also increases the hair elasticity – which means less breakage. Plus it helps to lower inflammation which can cause dandruff, eczema, and other scalp condition.
Marshmallow Root will aid in treating hair ailments like eczema, psoriasis and dry scalp and it does this with the mucilage which is a gel-like substance that becomes slippery when wet. This substance is super rich in proteins and vitamins and there are several ways to use or take the herb. Some of the most beloved products in the natural hair world because of their remarkable slip contain Marshmallow root
Sage has been used since ancient times to combat hair loss and baldness. Sage contains beta-sitosterol, a 5-alpha reductase compound which has been found to be effective in treating baldness. Sage imparts shine and luster to your locks. Also used to ward off dandruff. Excellent for making your hair thicker, shinier and stronger. Sage is particularly effective in encouraging new hair growth as it improves circulation to the scalp, providing more nutrition to the hair follicles. Reduces dandruff and prevents clogged hair follicles too.
Lemon fruit is used to treat dandruff and for making hair healthy and shiny.
Sweet potatoes contain an average of 0.278 mg of Copper per 100g. This nifty trace element is an excellent weapon against hair loss. Sweet potato provides massive nourishment to thirsty strands that is unmatched. The vitamin A will boost your scalp's natural oils, so it seals the moisture and promotes hair growth while the Omega-3 fatty acids add luster by nourishing your hair follicles.
Coconut Milk - The natural fatty acid profile of coconut milk has extreme moisturizing effects. These can restore both dry hair and scalp, acting as a powerful conditioner for damaged hair too
Heavy Cream is a deep conditioning, anti-frizz hair treatment for dry and brittle hair. This moisturizing milk restores strength and softness.
Biotin improves scalp circulation, increase hair density, and strength hair follicles. Using biotin can help hair feel more nourished and thicker.
Saw palmetto can help treat male and female pattern baldness by blocking DHT production
Aloe vera contains vitamins A, C, and E. All three of these vitamins contribute to cell turnover, promoting healthy cell growth and shiny hair. Vitamin B12 and folic acid are also contained in aloe vera gel. Both of these components can keep your hair from falling out.