cARROT cREAM hAIR mILK bUTTER
cARROT cREAM hAIR mILK bUTTER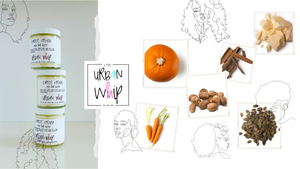 Let us get into these ingredients and why we choose them..
__iNGREDIENT aLMANAC__
Rosehip oil is enriched with Vitamin C, which is a powerful antioxidant. The antioxidant property of the oil helps to fight the free radicals, which cause cell damage. Therefore, applying rosehip oil on the hair keeps the hair cells young by fighting the free radicals, thereby preventing hair-loss as well. It is an established medical fact that deficiency of vitamin C can lead to serious hair-loss problems.
Apart from vitamin C, rosehip oil is also fortified with essential fatty acids such as oleic acid and linoleic acid. Oleic acid is an omega9 fatty acid, which is an important component of the cell structure and, is crucial for optimal cell functioning. Linoleic acid is an omega6 fatty acid, which is important for hair growth. Deficiency of either of the omega-n fatty acids can lead to dryness and brittle hair. Additionally, their critical ratio present in the body system also determines the functioning of the omega 3 fatty acids, which as we all know is associated with health and wisdom.
Another benefit of applying rosehip oil on the hair is that it has deep moisturizing properties, which helps to prevent scalp dryness and hair-problems manifesting there from.
The presence of retinol or retinoic acid in rosehip oil again turns to be advantageous for hair care. Retinol has anti-aging properties, which help to rejuvenate the skin-cells. It is by the virtue of this property the oil helps to heal scars because it helps in the "turnover" of skin cells. Retinol also protects the skin cells from damage due to exposure to UV radiation. So yet again, the hair gets a protective coat from rosehip oil.
Carrot seed essential oil is known as a skin detoxing oil wonderful for rejuvenating the skin and softening wrinkles. Although it is most popular in anti-aging products, it also helps heal eczema, psoriasis, dermatitis, and other skin rashes and irritations.
Carrot seed essential oil is wonderful for hair because it balances and maintains moisture in the hair and scalp, and strengthens and conditions hair while preventing split ends.
Fennel Seed treats dandruff, soothes itchiness and bumps on the scalp, prevents hair breakage, and also treats shedding of the hair strands.
Slippery Elm Bark has a high content of procyanidins that improves the strength of hair and makes it tensile, promotes healthy hair growth and improves the volume of hair, detangles the hair due to the slippery nature, making it soft and smooth. Eliminates dandruff as well as Treats dry, dull and damaged hair.
Banana oil is widely used in hair care products such as conditioners and hair creams for its strong moisturizing properties, making hair baby soft and so much more manageable. Along with vitamin C and B complex, it is abundant in calcium, phosphorus, iron and other minerals. And famous for its nourishing potassium, it is the perfect remedy for hair damaged by processing treatments, such as coloring or straightening.
Castor Oil is high in ricinoleic acid. This acid is a very effective natural anti-bacterial and anti-fungal agent. This can help keep any fungus or bacteria from inhibiting hair growth. Castor oil is also high in omega 9 fatty acids, which are nourishing to both the hair and the follicle, as well as the surrounding skin. Castor oil has a unique ability to be deeply penetrating, and this helps it to deliver its nourishment deeply into the pores and the follicles that produce hair. It also has a high gloss, so it lends a lush glossiness and shine to the hair.
Sunflower oil is rich in vitamins like A, B, C and E and minerals like iron, potassium and calcium. Ample content of essential nutrients, antioxidants and fatty acids in sunflower oil make it highly beneficial for hair health. Contains high levels of Oleic Acid. Sunflower oil is known to have a main component and high levels of Oleic Acid, which is an Omega 9 acid. Can stimulate natural hair growth. This Omega 9 acid is also responsible in preventing brittle hair and also hair loss. Contains Vitamins, Nutrients and Minerals. Sunflower is known to be packed with Vitamins A, B, C, E, potassium, iron and calcium that are very beneficial for your hair especially when it comes to hair health and growth. Conditions your hair, making it smoother, shinier, healthier and stronger with every application. Protection from UV lights. Ultraviolet (UV) lights are known to be damaging for both hair and scalp. With regards to this, Sunflower oil will serve as protection to your hair from the absorption of UV lights. Eliminates dry and scaly scalpas well as keeping your hair moist and soft. Sunflower oil is known to be light that is why it is absorbed easily. It also easily penetrates deep into the shaft of your hair that is why it is recommended for hair care. Rich in Vitamin E. Vitamin E is known to be an excellent moisturizing agent that can give hydration to your hair. A scalp that is healthy and well-nourished can promote hair growth. It also contains antioxidant properties responsible for preventing early hair loss. As your hair is exposed to UV rays, free radicals can appear and they can cause damage to your hair cells. Antioxidant properties have its ability to hunt free radicals to prevent it from destroying your hair.
Calendula contains a high amount of falconoids, which are plant-based antioxidants that protect the body against cell-damaging free radicals. Calendula has anti-inflammatory, antiviral, and antibacterial effects. Soothes irritated scalp, and improves the condition of the scalp and hair.
Pumpkin is rich in vitamin A and when you use it directly, you get all the natural goodness from it straight from the source. Like banana and avocado, pumpkin is another rich source of potassium and this nutrient is especially useful in promoting the re-growth of hair. This makes pumpkin one of the vegetables for hair loss.
Pumpkin is especially good for moisturizing dry or damaged hair. Because our hair is especially dry this should be a vegetable that should be included in your hair and facial regimens.
Pumpkin seeds boost your health abundantly, whether it is body, hair or skin. It is rich in Vitamin A, K, B (biotin), zinc and sulphur which are essentially important for your scalp's health and hair's strength.
Like the seeds, raw pumpkin seed oil can help improve skin tone and may be a beneficial supplement for many skin problems like acne, dry flaky skin, eczema and psoriasis. Alongside the powerful antioxidant content, the high levels of natural fats would appear to be responsible for this effect.
The fatty acids in this healthy oil assist in maintaining smooth skin tone and will help speed up the repair of dry, flaky and irritated skin. They are also important for proper moisture levels within the epidermis and normalizing skin's oil production.
Vitamin E, especially the gamma-tocopherol version found in good concentrations in pumpkin seed oil, and carotenoids like beta-carotene, are powerful antioxidants for protecting your skin from damage and reducing the signs of aging.
Nutmeg helps in quick hair growth and adds a lustrous shine, Nutmeg works effectively to tone your hair. It also increases blood circulation in the scalp and helps hair growth. Keeping the hair shiny and silky, it adds volume to the hair.
You can get a healthy and smooth skin with the use of nutmeg. The oil extract of nutmeg is used for making lotions, scrubs and cream. It is an ideal ingredient to enhance the facial beauty.
Nutmeg is widely used for its anti-bacterial and analgesic properties. It helps in reducing wrinkles, fine lines and other signs of aging.
Cinnamon is highly anti-inflammatory and also aids in the circulation of blood. When used in the hair, this helps with removing impurities from the hair and scalp and also promotes hair growth further.
Cinnamon is also very good for treating scalp infections because of its anti-inflammatory, antibacterial, antiviral and antiseptic properties and can be used both externally or taken internally.
Shea butter provides moisture to dry and damaged hair from the roots to the tips, leaving it healthy and shiny. Because it's rich in vitamins A and E, shea butter soothes dryness, repairs breakage, and mends split ends.
Shea butter absorbs quickly and completely into the scalp without clogging pores, leaving a greasy residue, or causing a buildup of oil or dandruff. Shea butter helps heal a variety of scalp problems, including dry scalp, psoriasis, eczema, and dermatitis. Shea butter protects hair from weather damage caused by wind, humidity, and extreme dryness, and repairs such damage.
Because it's rich in moisture and can shield against harmful ultraviolet radiation, shea butter protects hair from sun damage. If your hair has endured chemical treatments, hot irons, and blow-dryers, shea butter can restore its moisture and vitality.