gARLIC + oNION hEALING hAIR sERUM
gARLIC + oNION hEALING hAIR sERUM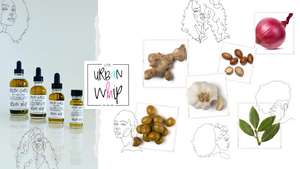 ____iNGREDIENT sPOTLIGHT____

Sunflower oil provides your scalp and strands with the nutrients needed for shiny, strong hair. Its hydrating, promotes scalp and hair health and can even help with making hair thicker. If you have dry hair or damaged strands, dandruff, frizz or thinning hair you should be using sunflower oil.

Garlic - Anti-microbial: Components of garlic have been shown to have antiviral and anti-fungal properties, making it helpful for the scalp's viral or fungal infections. Minimizes dandruff and stimulates hair growth: Applying garlic powder to the scalp leads to increased skin perfusion (or blood circulation in the scalp). Increased blood flow in the scalp leads to increased hair growth. Rich in sulfur: A necessary element in keratin production. Keratin is the protein that makes up 90% of the hair fiber. Natural DHT blocker: DHT is believed to be the culprit to androgenic hair loss or genetic hair loss. Protects from sun damage: A 2016 study demonstrated that the antioxidants in garlic might have the ability the protect against ultraviolet damage. Effective against hair loss: Another study found that topically applying garlic to the hair twice a day for three months might help reduce the risk of hair loss associated with alopecia.

Onion has sulphur that is said to prevent thinning and breakage of hair. Lesser hair thinning and breakage will ensure thick hair growth. Onion mildly nourishes hair follicles with the help of sulphur. Nourished hair follicles will allow regeneration of healthy hair.

Ginger helps improve the circulation of the scalp while also stimulating each hair follicle, which in turn promotes natural hair growth. The many vitamins, minerals, and fatty acids in ginger also contribute to strengthening your hair strands to combat hair loss, and ginger contributes to restoring moisture loss.

Avocado oil is extremely rich in oleic acid and monounsaturated fats, making it one of few oils that can actually penetrate the hair shaft and moisturize your hair, rather than sitting on top and coating your hair. These fats also strengthen the hair shaft and help prevent breakage

Jamaican Black Castor Oil - It increases blood flow to the scalp, which promotes healthier hair. Applying castor oil just once a month can boost hair growth up to five times the usual rate. It can moisturize a dry, irritated scalp. Castor oil's antibacterial and antifungal properties can reduce dandruff.

Flaxseed oil provides nutrition for hair follicles because it's rich in fatty acids. Omega-3 fatty acids nourish hair follicles for healthy hair and scalp. Flaxseed oil is rich in antioxidants that help in fighting free radicals in your scalp and ensures optimal scalp health. Flaxseed oil is a rich source of vitamin E, B1, B2, B6, and biotin. The chemical composition of flaxseed oil makes it an excellent anti-inflammatory ingredient that you can put in your hair. The omega-3 fatty acids present in flaxseed oil can help in strengthening your hairs. It is one of the highly rich sources of omega-3 and if you have dry hair or flaky scalp, it is highly recommended that you use flaxseed oil for hair regularly.

Fractionated coconut oil is a natural emollient, which means that it's effective at moisturizing and softening the skin and hair. In addition to being a natural emollient, fractionated coconut oil is noncomedogenic, meaning it won't clog the pores or leave your skin or hair oily

Tamanu Oil encourages stronger, longer, and healthier hair growth, addresses hair loss, hydrates the strands, brings out hair's natural sheen, and helps with easier manageability. It also works to soothe inflammation and eliminate fungal infections on the scalp.

Grapeseed Oil helps your hair and scalp retain moisture by adding vitamin E (which is moisturizing) and fatty acids (which get into your hair follicles and cuticles and help them stay hydrated). Adds shine to your hair without weighing it down.

Mustard oil is high in fats including omega-3 fatty acids. This may help it reduce inflammation on your skin and scalp. Using mustard oil as a scalp treatment may help protect or improve hair root health for stronger, thicker hair.

Neem actively cleanses and strengthens hair follicles. This has a lot of benefits of neem for hair. Increased blood circulation in your scalp gives you stronger and healthier roots, therefore lustrous, stronger, and healthier hair as well.

Nettle leaves are rich in silica and sulphur. This helps in making hair shinier and healthier.

Comfrey is helpful for hair growth because it has gamma linoleic acid, a omega-6 fatty acid, that helps stimulate skin and hair growth, which is why many cosmetic companies use comfrey.

Horsetail herb rejuvenates your hair, adding sheen to the appearance and strength to the hair shafts. It also contains selenium and cysteine, which are known to promote healthy hair growth.

Rosemary - Not only does rosemary reduce hair fall, it can also give way to hair growth due to its ability to keep the nerves healthy. It contains carnosic acid, which is known to have a healing effect in the case of nerve damage. Due to this, rosemary can provide your scalp with the nourishment it needs for growth.

Bay leaves are rich in vitamin B, which is known to improve the overall health of your hair

Lavender - With a powerful pack of antibacterial and antiseptic properties, Lavender protects your scalp against bacteria. It helps in improving blood circulation in the scalp, which strengthens the hair follicles. This, in turn, prevents hair loss and enables hair growth.