gINGER sOUFFLE | hAIR tREATMENT
gINGER sOUFFLE | hAIR tREATMENT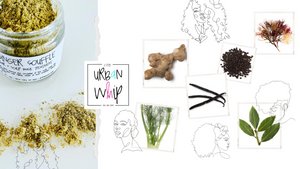 ____sPOTLIGHT iNGREDIENTS_____
Ginger helps improve the circulation of the scalp while also stimulating each hair follicle, which in turn promotes natural hair growth. The many vitamins, minerals, and fatty acids in ginger also contribute to strengthening your hair strands to combat hair loss, and ginger contributes to restoring moisture loss.
Wheat germ is beneficial for the scalp and encourages strength and elasticity of each strand. At the same time, nourishing vitamin E and lecithin act as building blocks to make your hair act strong and look healthy. The essential fatty acids of wheat germ oil are said to help to strengthen hair's root and follicle.
Coconut is a great source of protein for the hair and scalp
Amla or the Indian gooseberry can treat hair loss effectively. This edible fruit is considered as a miracle cure for hair care
Cardamom is considered a panacea to overcome many hair problems. Anti-bacterial and anti-fungal elements are also found in cardamom. Cardamom is considered very beneficial in making hair shiny. Cardamom contains potassium, calcium, iron, magnesium and phosphorus
Pimento is a traditional treatment for scalp conditions stemming from bacterial and fungal sources. It's rich in the omega-9 fatty acids required strong hair that's less prone to breakage.
Neem has antifungal properties that may help within the treatment of dandruff. The effective use of neem to your hair can relieve the itchiness, inflammation, and irritation associated with dandruff. The regenerative properties of neem help in reducing hair fall
Irish sea moss can soothe scalp irritation, fortify the strands, curb hair fall, and improve hair shine. It may also promote hair growth
Moringa is rich in amino acids which are building blocks of cells, therefore this helps in rejuvenation of hair thereby, reduces alopecia. It activates the dormant hair follicles thereby enhancing hair growth on the bald areas. It is a rich source of Biotin
Fennel seeds can fight your hair fall. The antioxidants and nutrients present in fennel seeds strengthen the roots of your hair and give your follicles some life.
Vanilla bean has the power to curb inflammations. Vanillin, the extract from vanilla beans, has antimicrobial properties that can prevent bacteria from irritating your scalp's pores and the follicles underneath it.
Vanilla bean can promote hair growth in its ways. Vanilla is enriched with vitamins and minerals necessary for hair growth.
Vitamin B2 or riboflavin is abundant in vanilla beans. It boosts the metabolism of proteins, such as keratin. Without enough riboflavin, keratin synthesis gets affected, and so does your hair.
On the other hand, vitamins B5 and B6 help maintain the condition of your shaft and scalp. Pantothenic acid repairs the cuticle damage on every strand, thereby keeping enough moisture for your locks. On the other hand, your hair follicles need the help of vitamin B6 for oxygen delivery from the red blood cells.
Cloves contain high levels of antioxidants and nutrients that can add to the growth and strength of your hair. They can be used for protecting the scalp from dandruff, which is actually a major cause of weak and thin hair. Cloves also contain anti-inflammatory agents which further help in hair thickening. It helps to reduce hair fall too. With the presence of Vitamin K in cloves, there is better blood circulation which stimulates hair to grow. It treats dandruff, flakes, and relieves the itching associated with it due to its anti-inflammatory properties. It also prevents the greying of hair due to its antioxidants. The compound eugenol found in clove oil helps promote hair growth when applied to the roots. It can also repair, strengthen and add a healthy shine to the hair shaft when applied regularly.
slippery elm bark - The amino acids in slippery elm bark will encourage circulation to the roots of the hair and the hair follicles. It can encourage new and healthy growth, while adding shine and sheen to lackluster hair. The iodine can help prevent excess hair loss and will encourage softer curls and coils.