pLAYDOUGH sOAP - DIY Recipe
pLAYDOUGH sOAP - DIY Recipe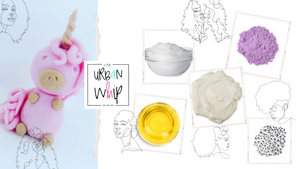 For a soap playdough that can be stored in a closed container for two weeks, maybe longer, add 1 drop food coloring, 2 teaspoons water, and 2 teaspoons vegetable oil to a cup of soap flakes (about half of your original bar.) Or if you prefer, mix together 10 mL water, 10 mL vegetable oil, and 230 mL soap flakes.
Note: this dough is unsuitable for any kids who still tend to eat play dough, but it's great for older kids. The best part is the cleanup: after playing with soap dough, they could wash their hands WITHOUT soap and mom would still approve!
Another note: the dough comes out speckly, with white flakes. It may be that blending the dough or flakes in a blender will get a smoother consistency.