aLL aBOUT aLOE vERA - dIY
aLL aBOUT aLOE vERA - dIY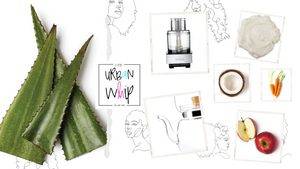 Due to its moisturizing properties and nourishing vitamins, aloe vera has gained popularity as a treatment for dry hair and skin. Research has shown that it may help with dandruff relief, and that the plant compounds may also help promote healthier hair.
Aloe vera or aloe vera-based products can be used in the winter as well as in the summer and by people of all skin types. Aloe vera treats the cells on the epithelial level of the skin which is why it's recommended by dermatologists to remove tan, treat sunburn and stretch marks. One way to use aloe vera is to apply the gel directly, another would be to make a pack using aloe vera along with some other special ingredients from your kitchen.
1. Aloe vera for dry skin - Take some aloe vera, a pinch of turmeric, a teaspoon of honey, a teaspoon of milk and a few drops of rose water. Blend this mix till you get a paste. Apply it and leave in for about 20 minutes or so.
2. Aloe vera scrub - Grab half a cup of fresh aloe vera gel, a cup of sugar and two tablespoons of lemon juice. The sugar will help exfoliate and scrub off dead skin, the aloe vera will deep clean the skin and the lemon will help fade out scars and tan. Stir the three ingredients together and use it to scrub both face and body.
3. Aloe vera for acne - Take some aloe vera gel, blended walnuts with a flour like consistency and honey. Aloe vera's healing properties coupled with the anti-oxidants from honey will leave you with smooth and clear skin.
4. Aloe vera for sensitive skin - Grab some aloe vera gel, cucumber juice, yogurt and rose oil and blend them to a paste. Apply and leave for around 20 minutes, then rinse it off.
bENEFITS oF aLOE vERA fOR tHE sKIN
1. It soothes sunburn and skin injuries
Soothing sunburned skin because of its naturally moisturizing, and subsequently healing, properties, research has shown that aloe vera may help heal first- and second-degree burns on the skin.
Some research has found that aloin, a compound found in the aloe plant, has anti-inflammatory properties that aid in the skin-healing process. Aloe is also chock-full of antioxidants, and one antioxidant protein, in particular, called metallothionein, has been found to have a protective effect on skin that's been exposed to and damaged by UV rays. The plant is also incredibly hydrating, which could help combat the skin peeling that usually takes effect post-sunburn.

2. It helps fade dark spots
Dark spots on the skin, also known as hyperpigmentation, can leave their mark for a variety of reasons. Whether from sun exposure, acne, or just the normal aging process, all dark spots typically have one thing in common: They're stubborn. However, a compound called aloesin, found in the aloe vera plant, could help lighten things up.

According to one study, when applied four times per day for 15 days, aloesin was found to be effective in treating UV-induced and post-acne hyperpigmentation.
Another study found that the topical application of aloesin can directly inhibit hyperpigmented skin from producing more melanin, the pigment that, when overproduced, causes dark spots to form.

3. It moisturizes skin
Aloe vera's moisturizing properties are twofold. "The leaf of the aloe vera plant is rich in water, particularly in the innermost layer, so it helps to hydrate the skin and lock in moisture, The sugars it contains, also known as mucopolysaccharides, also help to retain moisture in the skin.

Mucopolysaccharides, as found in the aloe plant, help retain moisture in the skin. When applied topically, aloe vera has been shown to increase the water content of the outermost layer of skin, called the stratum corneum, making it an ideal ingredient for dry skin types.

4. It makes a restorative scalp mask
All of the plant's beneficial properties for skin like: moisturizing, anti-inflammatory, and antimicrobial—also lend themselves to the scalp (which is also skin, after all).

Applying it as a scalp mask can help soothe irritation, exfoliate, replenish hydration, and even strengthen and smooth hair follicles. It can also be used to keep hair smooth and shiny and also for the scalp to help eliminate dead skin cells.

5. It provides healthy aging benefits for skin
Hydrated skin is happy, healthy skin, and as we know, sufficient moisture also helps stave off the visible signs of aging like fine lines and wrinkles.

In addition to its ability to help replenish and retain moisture in the skin, aloe also stimulates the production of hyaluronic acid and collagen and elastin fibers in the skin—all of which are necessary to keep skin hydrated, firm, and supple, and all of which decline naturally with age. Applying aloe vera topically has been shown to help restore skin elasticity and decrease the appearance of fine lines.

6. It can help clear up acne
In addition to its antimicrobial and anti-inflammatory properties, aloe vera is also a natural source of salicylic acids, which can also help with breakouts such as blackheads and whiteheads. Aloe's acne-busting powers are backed by science: One study found that the topical use of aloe in combination with tretinoin cream was found to be effective in treating inflammatory and noninflammatory acne.

7. It soothes psoriasis and eczema
Skin conditions like eczema and psoriasis signal general inflammation and a compromised skin barrier—both of which can be helped by aloe vera.

Additionally, skin with a broken barrier is also more prone to fungal and bacterial infections, and aloe vera can be considered an antiseptic acting against fungi, bacteria, and viruses. According to the Mayo Clinic, using aloe vera cream on psoriasis may also help reduce the scaling, redness, and irritation caused by the disorder.

8. It treats and prevents dandruff
Dandruff is a form of seborrheic dermatitis, and aloe vera has been found to be an effective treatment for the scalp irritation, scaliness, and flakiness caused by seborrheic dermatitis.

In one study, participants who applied aloe vera onto the scalp saw a significant reduction in symptoms, namely scaling and itching. According to another body of research, the antibacterial and antifungal properties of the plant help prevent and treat dandruff altogether.
9. It may help fade stretch marks
Another unwanted skin signal of aging, as well as pregnancy, are stretch marks. According to some research, the topical application of aloe vera has been shown to be effective in lessening the appearance and preventing the spread of stretch marks.

Aloe's ability to help fade stretch marks is likely in part due to its skin-restoring and anti-inflammatory properties like promoting the production of hyaluronic acid, collagen, and elastin.
bENEFITS oF aLOE vERA for the hAIR
Aloe vera is a plant that has thick leaves with a gel-like substance inside of them. It's found all over the world, and many people even grow their own.

Aloe vera gel is cooling and soothing when applied to the skin, which is why it's sometimes used to treat burns and skin wounds.

Aloe vera has been used for centuries for its healing properties. Some claim it has another application besides its skin benefits: It can actually strengthen your hair and make your scalp healthier.

The best form of aloe vera to use on your hair is the raw gel of the plant. You can buy this gel in almost any pharmacy or scoop it out of leaves cut fresh from a live plant if you have one. The gel is clear in color and slightly watery.

Rubbing aloe vera into your scalp and hair and letting it penetrate your hair follicles could condition and improve damaged, dry hair. After letting it sit for an hour, rinse the gel off with a mild shampoo. 
1. Calms an itchy scalp

Seborrheic dermatitis is the clinical term for the condition we call dandruff. The symptoms of an itchy scalp and flaking skin under your hair can be treated with aloe vera. Aloe vera is an effective natural hair cleanser that helps you remove dead skin cells, excessive sebum, dirt, and product build-ups from your scalp and hair. This helps you to fight off dandruff while keeping your scalp clean. Also, the anti-pruritic properties and proteolytic enzymes of aloe vera relieve you from itchy scalp conditions.


2. Protects Your Scalp And Hair From Sun Damage
Along with high collagen content, aloe vera has natural cooling properties too. This helps to keep your scalp and hair safe from the UV radiation of the sun.


3. Stimulates healthy hair growth 
When your scalp has been cleansed and your hair has been conditioned with aloe vera, you might see that hair breakage and loss slows down. Aloe vera improves the blood circulation to your hair follicles when it is applied to your scalp. Thus, it helps your follicles receive essential vitamins, minerals, and oxygen from your blood, which contribute to healthy hair growth.

Also, it is power-packed with minerals such as zinc, copper along with proteolytic enzymes. They aid in stimulating the dormant cells in your follicles and promote faster hair regrowth.

4. Curbs Hair Fall By Strengthening Hair Roots
Aloe vera is rich in vitamins C, E, B-12, choline, and folic acid. These compounds strengthen your weak hair follicles by providing deep nourishment. Thus, aloe vera prevents hair shedding from weaker roots and also controls your hair breakage.


5. Restores pH Balance On Your Scalp
Aloe vera has the same range of pH levels as your scalp and hair. Thus, using aloe vera regularly can restore the pH balance of your scalp and hair, which might have been disturbed otherwise due to other factors.
6. Eliminates Microbial Infections
Aloe vera is also known for its anti-fungal, antiseptic, and antibacterial properties. It promotes the health of your scalp and hair by fighting off scalp infections and dandruff. It also helps to calm itchiness and irritation in your scalp, caused by infections.
7. Adds Soft Texture By Reducing Frizziness
Aloe vera acts as a deep conditioning agent that can soften your dry and frizzy hair. It locks your opened-up hair cuticles. giving your hair a soft and smooth texture. Also, it helps in retaining the natural oils in your scalp.
8. Rejuvenates Dry Scalp And Hair
Aloe vera has a high water content which makes it a great humectant for your scalp and hair. It provides essential nutrients to your hair follicles that make your hair grow healthy and prevent your scalp and hair tissues from drying out.

Cosmetic technology researchers from the University of São Paulo, Brazil, found that freeze-dried aloe vera extract is naturally effective in improving skin hydration through a humectant mechanism. Which is the type we use in our hair formulas 


aLOE vERA hAIR rECIPES - dIY

1. Aloe Vera As Overnight Spray
Prepare a solution by blending ½ cup of aloe vera gel and ¼ cup of ginger juice. Pour it into a spray bottle and use it on your entire scalp and tresses during bedtime. Massage your scalp and hair for about 20 minutes. Leave it overnight and wash it off the next morning.

2. Aloe Vera As leave-In Conditioner
Add about 10-15 drops of lavender oil to ½ cup of aloe vera gel. Blend it into a smooth liquid and transfer it into a pump bottle. Apply a little bit of this conditioner to your scalp and hair after every hair wash. Leave it for 2-5 minutes before going for your final hair rinse.

3. Aloe Vera To Control Frizziness
Mix a cup of aloe vera gel in a cup of coconut oil. Heat the mixture until the residue turns dark. Keep the mixture aside for cooling and store it in a container later. Massage your scalp and hair with aloe-coconut oil at least half an hour before your hair wash.

4. Aloe Vera For Dandruff Treatment
Add 10-15 drops of neem oil to 3-4 tsp of aloe vera gel. Massage this gel into your scalp. Leave it overnight and wash it off using a herbal shampoo the next morning. Repeat this weekly once or twice. This works well especially for people with elevated Pitta dosha.

You can also add 2 tsp of apple cider vinegar and 1 tsp of honey to 4 tsp of aloe vera gel. Leave it on your scalp for half an hour before washing it off with a mild or herbal shampoo.

5. Aloe Vera For Soft And Shiny Hair
Mix well 2 tsp of aloe vera gel, 2 tsp of yogurt, and 2 tsp of honey in a bowl. Apply this mask to your scalp and hair. Leave it for half an hour before washing it off. Repeat this once a week.

6. Aloe Vera For Root-Strengthening And Treating Premature Greying
Prepare a fine paste from 2 tsp overnight-soaked fenugreek seeds. Add 2 tsp of aloe vera gel to the paste. Apply this mixture to your scalp and hair. Leave it for half an hour and rinse it off thoroughly later.

7. Aloe Vera For Hair Growth
A. Mix well equal parts of onion juice and aloe vera gel. Apply this mixture thoroughly across your scalp and hair. Leave it for about 30-45 minutes before washing it off using a mild or herbal shampoo. Repeat this twice a week.

B. Mix aloe vera gel and amla juice or powder in equal quantities. Apply this paste to your scalp and hair. Let it sit for an hour and wash it off with water.


8. Aloe Vera For Repairing Split Ends
Prepare a fine paste by adding 2 tsp of hibiscus powder to ¼ cup of aloe vera gel. Apply this paste from the middle of your hair strands to the tip. Leave it for about 45-60 minutes before rinsing it off with lukewarm water. Repeat this once a week.

9. Aloe Vera For Hair Loss Treatment
Mix equal parts of aloe vera gel and freshly brewed green tea. Apply this mixture to your scalp and give it a gentle massage for a few minutes. Leave it for half an hour and wash it off using cold water. This works best for DHT hair loss.