mINERAL mUD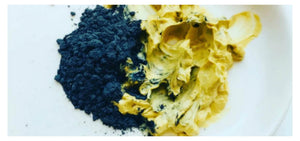 oUR 3 IN 1 TRIO cLAY mASKS were created specifically for delivering ultimate nutrition to the scalp, skin and hair.

Great used as a base [activator] for all of our Face & Hair mask in Dry form. Fantastic addition to your uRBAN aLCHEMY Routine! All Urban Whip products are handmade, with no harmful chemicals.

To Use: Apply to clean, damp skin or scalp in a medium layer. Avoid the immediate eye area. Allow the mask to sit on the skin or scalp for about 10-15 minutes. Use warm water to rinse off. There is no need to wash the skin after, but you can if you prefer.

To Apply as a hair mask, can be used directly on dry hair. Massage in and rinse out. Can also be used as a conditioner after cleansing hair for smooth and soft follicles. Just wash hair, rinse and apply mask. Allow to sit and rinse out like any regular conditioner.

To Use as an Activator: Pump enough of the white clay mask into a dish. Add a 1/2 of tsp of any of our dry powder facial and body mask. Combine together well and apply to the face or body with a brush of your fingertips. Allow to sit up to 15 minutes depending on your skin type. Rinse with a warm damp cloth. Apply Moisturizer.
mINERAL mUD