dRY fACE mASK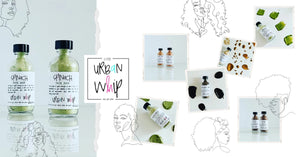 Use these gentle and yummy organic cleansers plus facial masks if your face is dehydrated or just looking a little dull, this facial mask, will rejuvenate your skin and leave it feeling extra soft. 100% Natural this product is made from the finest, organic materials without using any chemicals, fragrances or preservatives that may be harmful and stress on your skin.

Mixing Ideas:

Dry Skin: Cream, milk, aloe juice, pureed avocado or banana, honey, egg whites; 3 in 1 Trio Clay Masks

Combination Skin: Milk, yogurt, soy milk, honey, green tea, pureed cucumber; 3 in 1 Trio Clay Masks

Oily Skin: Yogurt, green or black tea, pureed cucumber, Strawberry juice, Tomato juice; 3 in 1 Trio Clay Masks

Acne-prone Skin: Yogurt and honey, nonfat milk, green or black tea, pureed cucumber, pureed strawberries or apples ; 3 in 1 Trio Clay Masks

Normal Skin: Any of the above.

Why Go Dry? When water is introduced to a mixture it can grow mold and bacteria. Body care products that you buy commercially contain a hefty dose of harsh broad spectrum preservatives to give them a longer shelf life. Making these ingredients available to you in the dry powder form allows for a completely natural product with a great range of versatility.

These fabulous masks will make your skin as soft as a baby's! That's because yogurt contains lactic acid and is an excellent to exfoliate dead skin cells from your face, leaving it smooth and soft.
dRY fACE mASK