buBBLE cOOKIES + cAKES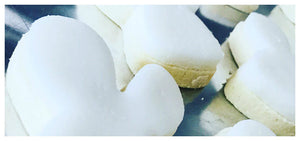 Crumble it up under running bath water. Get in tub and squish this uNIQUE Bubble Bar in your hand, get wet and repeat for sensory play. It foams into a consistency like Marshmallow Fluff. There is no wrong way to do it! If you want big bubbles, just agitate the water after the product has dissolved. This is all about having fun and having hydrated skin. You can cut it into smaller pieces.
buBBLE cOOKIES + cAKES
There are no products in this collection.