bATH bOMB cRUMBLE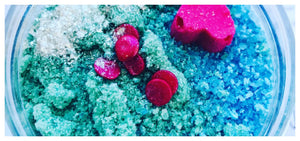 I'M FUN ON MY OWN, BUT I'M MORE COLOURFUL WHEN MY FRIENDS COME TO THE PARTY. USE A QUARTER AT A TIME WHEN COMBINING WITH ANOTHER TO CREATE A COLOURFUL COCKTAIL BATH PARTY.

To Use: Fill bath. Sprinkle half to a third of the jar into the water. Store in a cool, dry place. Keep in box. Use within 3 months of purchasing.
bATH bOMB cRUMBLE
There are no products in this collection.