hAIR + sCALP sERUMS & oILS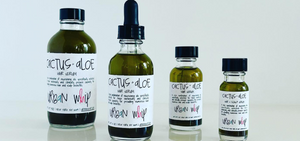 Use our hAIR & sCALP sERUMs, eLIXIRs and oILS as a natural way to help your hair grow longer, thicker, and faster. Apply onto the roots and scalp.

For better results warm the oil before massaging it into your scalp. Help curb scalp infections with an amazing blend of oils, herbs and extracts that will improve the overall health of your hair and scalp.

Will also help strengthen hair and promote hair growth. Will stop hair fallout and shedding. Frequent use of this oil promotes healthy and lustrous locks. It is extremely beneficial for all hair types

All Urban Whip products are handmade, with no harmful chemicals.

Massage Tip: Always use the pad of your fingertips. Start from the forehead hairline along the arteries in the front, side, and back of the head, making small circles with your fingertips. Work your way toward the top of the head as if drawing a circle. The movements should be rhythmic and continuous. This is Optional - Soak a medium sized towel in hot water, wring it out and wrap it around your head. Keep it there for 10 minutes.

hAIR + sCALP sERUMS & oILS