blUEBERRY sKINCARE rECIPES - dIY
blUEBERRY sKINCARE rECIPES - dIY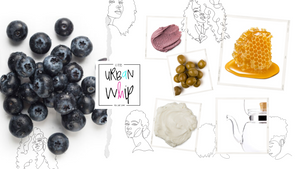 bENEFITS iN sKINCARE
High levels of free radicles can be found in your body when your skin is damaged. Blueberries have high antioxidants and vitamins K and C that support wound healing efficiently. Damaged skin has free radicles that outnumber antioxidants which might cause inflammation or oxidative stress. Blueberries potentially speed up the healing process with their high antioxidant content.
Some of the inflammatory conditions that cause discolored and itchy patches, called psoriasis and eczema, have lower antioxidant levels. The antioxidants present in blueberries lower oxidative stress by reducing psoriasis and eczema flare-ups, although more thorough research is needed
Salicylic acid has a salt called salicylates present in a high concentration of salicylates present in blueberries. Salicylic acid is a commonly used ingredient in many beauty products that act against acne-causing bacteria. This is an effective treatment for acne since blueberries have this salt in high amounts
Blueberries have high amounts of antioxidants that prevent the damage caused by free radicals. Vitamin A and C and flavonoids are some of the primary antioxidants present in blueberries.

Blueberries prevent further damage to your skin by neutralizing free radicals with antioxidants and phytochemicals. It helps heal broken capillaries and strengthen blood vessels.
Dark circles or under-eye darkness is a common issue faced by many people irrespective of age. Vitamins A and C present in blueberries help you eliminate dark circles resulting in a glowing surface.
Soak a cotton ball in a small cup of blueberry juice and apply it to the dark areas under your eyes. Let it stay on top and under your eyelids for about 10 minutes. Wash your eyes with warm water. For effective results, use this remedy before going to bed.
Spider veins give your skin an ageing effect which makes dilated blood vessels appear close to your skin. The weak vessels make your skin look splotchy. Blueberries reduce redness due to the loosened blood vessels by getting rid of the free radicles with antioxidants.

How to Apply:

Steam blueberries and blends them thoroughly with yogurt.
Apply the blueberry face mask to your face and let it stay for about 20 minutes.
Use warm water to wash your face.
Blueberries are jam-packed with vitamins and antioxidants, making them an incredible natural skin treatment. To make a nourishing blueberry face mask at home, mix 1/2 cup of crushed blueberries with 1 cup plain yogurt. Apply for 20 minutes and rinse with lukewarm water.
You can make a blueberry face pack by mixing mashed blueberries, a few drops of lemon juice and a teaspoon of honey. Apply on the affected areas and wash off after 20 minutes. Applying this pack once a week will drastically improve and heal acne.
Mix together 2/3 cup of blueberries, 2/3 cup of coconut yogurt (or lactic acid of your choice) or coconut milk, 1 tablespoon of raw honey, 1 teaspoon of oatmeal blend well and mix until you have a thick paste then apply directly onto your face. Leave this mask on for about 15 minutes. rinse face with warm water and pat dry.
This toner has some serious super powers — it's got the maximum benefits for evening out skin tone and lightening those dreaded dark spots, mash blueberries (about 10-12) and mix with lemon juice and basil oil. The lemon juice and basil oil are natural skin brighteners with their own antioxidant powers. Rinse well after applying. 
The widely known antiseptic has antibacterial and anti-inflammatory properties that prevent acne and breakouts when applied topically. Rich in vitamin C, lemon protects the skin from free radical damage and also exfoliates the skin to prevent skin issues such as acne.

Ingredients 5-6 blueberries A few drops of lemon juice A pinch of turmeric

Method of use In a bowl, mash the blueberries into a pulp. Add lemon juice and turmeric into the bowl and mix everything together well. Apply the mixture evenly on your face. Leave it on for 20 minutes. Rinse it off using lukewarm water.
The antioxidant properties of blueberry help to remove the dead skin cells and thus rejuvenate your skin. Olive oil, too, has an antioxidant effect on the skin and protect the skin from damage. Aloe vera and honey present in the mask will cleanse and moisturize your skin and leave you with healthy and radiant skin.
Ingredients ¼ cup blueberries
1 tbsp olive oil
1 tbsp honey
2 tbsp aloe vera
Method of use Mash the blueberries in a bowl. Add olive oil in the bowl and give them a stir. Next, add honey into the bowl. Lastly, add the aloe vera gel into the bowl and mix everything well to make a paste. It is recommended to use aloe vera gel freshly extracted from an aloe leaf. Apply the paste on your face and neck. Leave it on for 15 minutes. Rinse it off using water. Use it once a week for the desired result


bENEFITS oF bLUEBERRY iN hAIRcARE
Blueberries aid hair growth by improving oxygenation and circulation of blood in the body, particularly the scalp. It's been proven as a food that helps to slow down the process of hair aging.
The chemicals in blueberries stimulate the hair follicles, thereby boosting hair growth. Treat your tresses to a simple DIY blueberry hair mask: Blend together 1/4 cup of blueberries, one tablespoon of olive oil and one tablespoon of honey. Liberally apply to hair and rinse out after about 20 minutes.
Blueberries prevent hair loss and encourage hair growth with the chemical proanthocyanidins present in them. This chemical present in this wonderous fruit boost hair growth by stimulating the hair follicles efficiently.

How to Apply:

Crush a pack of blueberries and add olive oil to it.
Apply the mixture to the roots of your hair and let it stay for about 20 minutes.
Use lukewarm water to wash your hair.


Premature hair greying is an issue many of us face, irrespective of gender. The loss of hair pigments and keratin, hereditary problems, and deficiency in Vitamin B12 might be some of the reasons that cause premature greying of hair. Consuming blueberries regularly will help your hair retain its natural color since it is a rich source of vitamin B12.

How to Apply:

Prepare a paste by grinding Blueberry and olive oil.
Apply the paste to your hair evenly and let it stay for about 20 minutes.
For effective results, use this remedy once a week before taking a bath.


sCALP mASK
This hair mask is a blend of amazing ingredients that nourish the scalp and thus promote hair growth. The antioxidant properties of argan oil prevent free radical damage and help to maintain a healthy scalp. Yogurt contains lactic acid that keeps the harmful bacteria at bay and helps to maintain a healthy scalp. Honey is a natural humectant that moisturizes the scalp and has various beneficial properties to nourish the hair follicles. Furthermore, the acidic nature of lemon juice also helps to keep the scalp clean and healthy.

Ingredients

¼ cup blueberries
1 tbsp argan oil
2 tbsp yogurt
1 tbsp honey
A few drops of lemon juice


Method of use

Mash the blueberries in a bowl. Add yogurt to this blueberry paste and give the mixture a good stir. Now add argan oil into the bowl. Next, add the lemon juice and give it a mix. Lastly, add the honey and mix everything together to make a paste. Divide your hair into smaller sections and apply this paste on your scalp and work it into the length of your hair. Remember to give your scalp a gentle massage while applying the mask. Cover your hair using a shower cap. Leave it on for about 30 minutes. Wash it off using a mild shampoo, preferably a sulphate-free shampoo. Finish it off with a conditioner. Use this remedy 2 times in a month to get the desired result.

Here is a list of some of the health facts about blueberries:

Blueberries help improve your daily stamina. It enables you to remember things better by keeping your memory sharp.
It helps keep your digestive system in check, thereby maintaining your overall health.
Blueberries have anti-ageing properties that are very effective in keeping your skin glowing and youthful.
Blueberries give your hair a shining effect and improve your hair volume.
It improves bone health, making them strong and rigid, according to research.
Blueberries are an excellent addition to many dishes, which enhances their taste.



Here is a list of some of the easy DIY blueberry recipes you can try:


1. Blueberry Popsicles:

Ingredients:

1 ½ cup of fresh blueberries.
1 ½ tbsp of water.
¾ cup of coconut milk.
5 tbsp of maple syrup.
½ cup of almond milk.
Popsicle moulds.
Preparation:

Add blueberries, water, and three tbsp of maple syrup to a saucepan.
Boil the contents till they form a thick syrup.
Once the contents reach syrupy consistency, switch off the stove without mashing the blueberries.
Take a small bowl and add two tbsp of maple syrup, almond milk, and coconut milk and whisk the contents thoroughly.
Fill the coconut-almond milk mixture with a little over half of the popsicle mould.
Add a spoonful of blueberry syrup to the mould.
Place the moulds in the freezer for about four to five hours till the pops are solid.
2. Blueberry Oatmeal:

Ingredients:

Two cups of water.
¼ tbsp of cinnamon.
Two tbsp of honey.
2/3 cup of oatmeal.
1/3 cup of blueberries.
½ cup of low-fat milk.
Preparation:

Take a medium-sized pan and boil water in it.
Add oatmeal, cinnamon, and honey to it.
Mix it without forming lumps.
Put the stove in simmer let the water get absorbed, cooking the oatmeal thoroughly.
Now add milk and blueberries to the oatmeal.
Cover the pan and let it cook for five minutes.
Once you hear the blueberries pop and the oatmeal has a creamy consistency, switch off the stove.
3. Blueberry Smoothie:

Ingredients:

One cup of fresh blueberries.
One cup of plain yogurt.
¾ cup of reduced-fat milk.
Two tbsp of sugar.
½ tbsp of vanilla extract.
1/8 tbsp of nutmeg.
Preparation:

Place the blueberries, milk, yogurt, nutmeg, vanilla extract, and sugar in a blender.
Blend the ingredients thoroughly until you get a frothy mixture.
Serve the smoothie fresh.
Blueberry Side Effects:

Excessive consumption of even a good thing will have its own set of adverse effects. The same stands true for consuming blueberries in excess. Here are some of the side effects it may cause:

Intake of too many blueberries may cause dryness in your scalp.
Constipation and uneasiness can be due to the high amounts of fiber in a blueberry.
Salicylate is a compound found in large quantities in blueberries. It may cause sickness if you are allergic to this substance.
Blueberries are filled with high amounts of Vitamin K. If you consume them in one go, it may cause breathing, digestion, and swallowing.
Although blueberries can aid diabetic patients, consuming them in excess may lead to immediate collapse and seizure due to decreased blood sugar levels in quantity.
Blueberries may not be suitable for people with stone food allergies.