cRANBERRY dIY rECIPES
cRANBERRY dIY rECIPES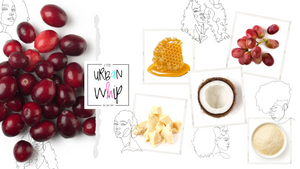 Historically, cranberries were used by indigenous peoples and early settlers as a medicinal ingredient to treat infections and boost overall health.

The topical use of cranberries enables the antioxidants found within them to help combat free radicals and slow the appearance of the effects of premature aging, the formation of fine lines and wrinkles, and the breakdown of collagen.

Cranberries also contain natural acids that help prevent the clogging of pores.

Cranberry has the only oil with a perfect ratio of omega-3, omega-6 and omega-9 fatty acids. Cranberries are rich in vitamin C that help in boosting our collagen production that is known to improve the elasticity of the skin.

Cranberry is a rich source of antioxidants, which promote the growth of new cells. Apart from this, antioxidants help in eliminating the free radicals from your skin, making it healthy. Using cranberry-infused beauty products can also reduce fine lines and wrinkles.
Cranberries are high in vitamins and antioxidants, so they not only reduce the appearance of wrinkles but improve gut health tremendously, as well as acneic skin and sensitive skin conditions like eczema

Here is a recipe for the ultimate de-sloughing scrub below -

Ingredients:

1/2 cup fresh or frozen cranberries blended (or organic canned)
1 cup brown sugar or coconut sugar
1/4 cup coconut oil
1 teaspoon honey

Directions: Mix all ingredients together in a bowl, then rub vigorously over the skin (wet of dry), Rinse and Pat Dry and follow by a light serum or moisturizer
Cranberry and Honey Face Pack:
There's nothing that honey does not work along with. Even with cranberries, it makes a great combination. Make a puree out a few cranberries and add in 1 or 2 tbsp to the puree. Mix well and apply on the face and neck, rinse off after 20 minutes.
Cranberry, Oatmeal and Yogurt Face Pack:
Another wonderful skin beneficial ingredient, yogurt will smooth out your skin. In cranberry puree, add in a few tbsp of yogurt, mix well. Since this mixture would be quite runny, you can add in oatmeal powder to make a thick paste. The oatmeal powder gently exfoliates dead skin cells while the cranberries and yogurt in the pack brighten and soften the skin.
Cranberry and Red Grapes Face Pack:
This is a strong anti-oxidant face pack. Cranberries and red grapes have high concentrations of antioxidants and when you use them in a face pack together, you would not have to worry about premature ageing at all. Make a puree out of a few cranberries and red grapes (include the seeds, take care they are not abrasive). Mix both the purees together and apply on face and neck. Use this pack regularly to get the anti-ageing benefits.
Cranberry + Olive Oil Face Pack
Blend cranberries and yogurt in a blender to make a smooth paste. Add in honey and olive oil. Apply on the face and wash off after 20 minutes. Honey acts as a natural moisturizer and olive oil has vitamin E and antioxidants. Yogurt helps get rid of dullness and hydrates the skin.
Cranberry + Sugar Scrub Recipe
This is a homemade scrub recipe by Neha A. To make this scrub, blend a few cranberries into a smooth paste. You can add in one tbsp of jojoba/almond/coconut oil to this paste. Add in oatmeal powder and sugar. Apply in a circular motion over damp skin. Wash off after the exfoliating process.