mANGO rECIPES - dIY
mANGO rECIPES - dIY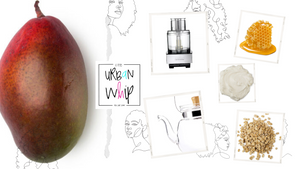 Mango might appeal to your taste buds & the so called "King of all fruits" can be perfect for your skin care too. It can add a healthy glow to your skin & cleanse the skin. This sweet & juicy fruit can also be answer to your major skin problems & skin blemishes. Read on to learn about the beauty benefits of Mango!

Mango is considered rich in nutrition. This carotene rich fruit can add a regenerative effect over dull looking skin. Internal consumption of mango can not only provide necessary vitamins for your skin, but improves the body metabolism as well.

Mango can be used to smooth skin irritations & peelings of the skin. During summer, skin is more likely to flake out & this seasonal summer fruit can be that perfect ingredient for fruit facials.
Mango Butter Benefits

Many people are unaware of the skin benefits that come from Mango Butter!

The butter obtained from mango kernels (the plant seed) is another effective emollient which contains vital minerals & vitamins that fight to keep skin hydrated ensuring that your skin is as soft as possible! It moisturizes the skin & protects the skin from harsh weather – in winter & on sunny days. It is also effective against dry skin conditions like eczema and are great for people with sensitive skin, as it is an all natural, plant based butter. Additionally, Mango butter is effective in reducing fine lines & wrinkles!

Mango butter comes from a plant seed which contains vital minerals and vitamins that fight to keep your skin hydrated ensuring that your skin is as smooth and soft as possible! Mango butter is also great for people with sensitive skin, since it is a natural and plant based butter.

In addition to being loaded with antioxidants it is also a great moisturizer, helps with stretch marks and smoothes wrinkles.

Mango butter contains natural emollient qualities that help keep the skin moisturized, therefore when applied to the scalp it restores and maintains the moisture and promotes cell regeneration. This all contributes to a healthy scalp that in turn results in healthy hair growth.

Mango butter possesses similar qualities to cocoa butter and Shea butter in the way of consistency and benefits, however it contains higher levels of fatty acid making it a more intensive moisturizer. Lack of moisture in the hair can result in weak, brittle hair and in turn leads to breakage and ultimately hair loss.

Mango Oatmeal Smoothie

Depriving the body of breakfast slows down the metabolism & it can lower energy levels. It is important to start the day right. A Mango Smoothie can be the perfect way to start the day!

Ingredients: 1 Cup Low-fat Milk, 1 Cup Orange Juice, 1 Mango Sliced to Pieces, 1/4 Cup Instant Oatmeal, 1 Teaspoon of Honey & A Few Ice Cubes. Put in a Blender for 30 seconds, & enjoy your drink. The results are amazing you will feel & look great!
Mango Fruit in Skincare

The refreshing Mango fruit is not only delicious to eat but an ideal natural ingredient to use in a face pack recipe.

Being rich in beta-carotene, it is an excellent antioxidant which gives the skin a more youthful appearance. Who does not like the sound of that?

Mangoes are effective in helping to restore the elasticity of the skin which tends to decrease with age and are a natural way of regenerating skin cells.

An extremely versatile fruit that may be used in different homemade beauty products, not just face packs, including facial cleansers, scrubs and body butter to name a few by easily changing ingredients in recipes to suit .

Making your own beauty products is far easier than you may think. Knowing exactly what is going into your skin care makes sense. No toxins, chemicals or synthetic fragrances - just all natural goodness.
Mango Face Pack

Rub a slice of Mango over the skin & it can soften your skin! It is also perfect for all skin types & it moisturizes the skin effectively. A face pack with Mango can be prepared with oatmeal, yogurt & pulp of a mango!
Mango and Honey Face Pack:

Honey is a natural humectant which locks in moisture to the skin. One of the most beneficial natural ingredients, It is also effective at absorbing impurities in the pores making it excellent for clearing blemishes or pimples.


INGREDIENTS:
4 tbsp Ripe Mango Pulp
2 tsp Honey
11/2 tbsp Almond Oil 
TOOLS:

Method:

Add all the ingredients into the bowl and mix well to an even consistency.
Apply to a cleansed face avoiding the eye area.
Leave for 15-20 minutes and remove with tepid water.
Splash cold water as your final rinse and pat the skin dry.
Apply your regular moisturizer.
Leaves the skin feeling ultra soft, radiant and hydrated.

Mango and Yogurt Face Pack:

Sensitive skins often react to different ingredients never mind chemicals in store bought beauty products. This is a simple refreshing face mask ideal as it is gentle, soothing and will leave the skin feeling soft and supple.
INGREDIENT:


1 Ripe Mango
5-6 tbsp Natural Organic Yogurt
TOOLS:

Method:

Scoop the soft mango flesh into a blender.
Add the yogurt and puree to a medium consistency.
Apply to a cleansed face with the fingers and leave for 15 minutes.
Remove with tepid water, finishing with a splash of cold water.
Pat dry and apply your regular moisturizer.
Mango Exfoliator

Make a paste of mango slices & mix it with two spoons of milk powder. Scrub it over the skin in gentle circular motion. It can nourish & exfoliate the skin. The result – a fresher looking skin on the outside!

Mango Facial

For sun damaged and tanned skin, mix mango slices, a few ground almonds & a tablespoon of honey. Blend them into a paste. Spread on to your face & relax for 15 mins. Wash away in cold water by gentle scrubbing in circular motion.

So now you know the amazing beauty benefits of mango. Get set to treat your skin with Mango & get the most refreshing skin glow!!

When bringing home Mangoes make sure to wash them in cold running water in order to remove dust & any surface pesticide residue. Wipe outer skin using a soft cloth. Cut the fruit lengthwise into 3 pieces in such a way that the middle portion consists of husky seed. Then, slice through the skin to separate the skin from the pulp. Chop pulp into desired sections.
The Benefits Of Mango for the skin:
Rich in Vitamin C
Rich in Beta- Carotene (Antioxidant)
Potassium
Magnesium
Natural Fruit Enzymes
Soothes Irritated Skin
Heals Chapped Skin
Moisturizing
Nourishing
Radiant Skin
Skin Softener
Skin Lightening (freckles, age spots and liver spots)

Grow You Own Mangoes

With a lifespan that could go to 300 years old and still produce fruit, Mango trees are extremely rewarding to grow.

Mango tree is a native to India for over 4000 years and it spread the world over from here. Mango is a widely cultivated fruit in tropical and subtropical regions. The fruit is exported worldwide.

The mango tree grows to a height of about 50 to 60 feet and the branches spread wide. A perennial tree, some have been found to be fruiting even after 300 years.

The ripe mango fruit is available several colors like yellow, orange, yellow and red, green, green and red, purple green etc. The fruit is sweet with various combinations of sweet to sour tastes. The ripe mango gives off a distinct sweet aroma and you can find people sniffing the fruit, before buying mangoes.

India is the biggest producer of mango. Most of it is locally consumed though some of the popular varieties like the 'Alphonso' called 'Hapoos' in India is widely exported. Alphonso is the highest rated mango in quality and the most expensive mango that is available in India.

Some mangoes have hairy, fibrous seeds but most are free of fibre. The fibrous ones are ones commonly sucked and consumed since cutting them is difficult.

Mango skins of some mangoes varieties like 'Langda' etc and the raw mango can cause itching, burning and biting and inflammation of the skin around the mouth due to the anacardic acid content in them. The sap of some mangoes causes these symptoms too because of the caustic nature of the sap.