gINGER hAIRcARE rECIPES - dIY
gINGER hAIRcARE rECIPES - dIY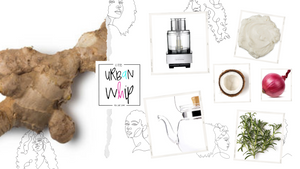 1. Promotes Hair Growth
Ginger tends to boost circulation in your scalp. This stimulates hair growth and strengthens the roots of your hair follicles.
2. Prevents Hair Loss
Packed with vitamins, fatty acids and minerals, ginger strengthens your hair and prevents hair loss.
3. Cures Irritation
Ginger helps fight scalp infections and can restore the health of your scalp, even if you are dealing with itchiness or irritation. It leaves your scalp feeling relaxed and refreshed. 
4. Prevents Premature Greying
Ginger is a major source of antioxidants that help delay greying. It also increases the natural pigment of your hair and leaves it silky and glossy.
5. Prevents dandruff
Ginger contains many antimicrobial and antiseptic properties, purifying your scalp and preventing dandruff. Applying ginger-extract oil regularly to your scalp can keep it healthy and dandruff free.
gINGER hAIRcARE rECIPES - dIY
Applying ginger to your hair is a rejuvenating experience for sure. Here are a few ways to incorporate ginger in your haircare routine
1. Ginger Juice Treatment
This spice is packed with antiseptic and anti fungal properties and using ginger is very beneficial in getting rid of even the most stubborn dandruff. Ginger juice improves blood circulation and regulates your ph level. You can extract the juice by blending in a blender or food processor and straining the liquid with a muslin cloth. The second method is using a juicer and juicing the ginger root in your juicer and then using the liquid. The juice can then be applied with a cotton ball to scaly patches and dandruff on the scalp. 
2. Ginger Hair Mask
Hair masks are perfect for adding an intense boost of moisture to your hair and reversing environmental and heat damage. Incorporating a highly potent ingredient like ginger into your hair mask will allow you to reap extra benefits such as combating dandruff. You can choose a ready made mask here or you can formulate your own!
fOR hAIR gROWTH 
Ingredients: 
1 tablespoon Ginger Powder or Grated Ginger
1 Tablespoon of Jojoba Oil
Method:
1. Mix the jojoba oil and ginger powder until it is a smooth paste 
2. Gently massage it into your scalp in  circular motions.
3. Leave it in for 30 minutes or until dry.
4. Rinse your hair with a gentle sulphate free shampoo and follow with conditioner. 
gINGER + oNION sCALP tREATMENT - dIY
In one natural remedy, ginger rhizomes are grilled over fire, then crushed, and the juice filtered before being applied to the scalp. This remedy works as an antifungal treatment and can also help stimulate hair growth. Also, a hot oil treatment that includes ginger oil may help those faced with dry brittle hair, which may be contributing to hair loss.

Onion juice helps those with patchy hair loss from alopecia areata.

1. To make a ginger and onion juice hair mask, just juice one onion with half the amount of ginger. 
2. You can apply the strained juice straight to the scalp using a cotton ball or add it to coconut oil, almond oil, or any other suitable carrier oil and apply. 
3. Rinse off once dry with a gentle shampoo or plain water.
gINGER oLIVE oIL dIY
Ginger stimulates the heart muscles and dilutes the blood, boosting blood circulation in the body. This includes circulation and blood flow to the scalp and hair follicles, which could potentially help with hair growth.

1. Steep a tablespoon of grated ginger in about three tablespoons of olive oil.
2. Massage the infused oil into the scalp, working in circular movements to stimulate blood flow to the scalp.
3. You can leave the treatment in for about a half an hour and then rinse off with plain water or a gentle shampoo. Be aware that the ginger may cause a warming sensation to the scalp.
Length retention spritz
Battle split ends and enhance hair growth with this hair spritz that will leave a great scent and help your locks grow to their true potential. This DIY spray will also add moisture and help rejuvenate curls and waves.
Ingredients:
1/2 teaspoon fresh ground ginger
1 tablespoon coconut oil (liquid form)
1/2 cup cucumber pulp
1 teaspoon basil oil
2/3 cup water
Method:
Simply pour the ingredients into a spray bottle and shake well. Use this spray for when your hair looks a bit dull or you notice frizziness on top. The oils used help enhance the benefits of the ginger combo and will bring your locks back to their best.
gINGER + cOCONUT oIL dIY

Ginger combined with coconut oil can condition your hair by penetrating the hair shaft and helping cut protein loss. This allows hair to stay strong and lustrous.

The antifungal properties of the ginger itself can also keep the hair cleansed.

1. Simply grate some ginger into twice the amount of coconut oil, squeezing the juice into the oil.
2. Sieve the mixture through fine muslin and apply to the scalp. This mix can soothe a dry and itchy scalp as well.
3. You can wash your hair with plain water or shampoo after half an hour.
gINGER + lEMON Anti-Dandruff Treatment

Dandruff causes flaking due to rapid turnover of the scalp cells. This hyperproliferation is caused by scalp yeasts from the genus Malassezia, a type of fungi. Research has shown that methanol extracts of ginger have significant inhibitory effects on Malassezia furfur, a dandruff-causing organism. 


1. This natural treatment for dandruff combines one or two tablespoons of ginger juice with three tablespoons of sesame oil and half a teaspoon of lemon juice.
2. Rub the mixture on your scalp three times a week.

Another popular hair cleanser takes advantage of lemon juice's cleansing antibacterial and antifungal properties.


1. Blend together two tablespoons of ginger and add to half a teaspoon of lemon juice, along with a nourishing coconut, sesame, or olive oil.
2. Apply either of these to the hair, leave in for half an hour, and then rinse off with water or shampoo.


Edge massage oil
You can also create a massage oil with ginger to help with thinning edges. Simply mix equal parts ginger oil and jojoba, olive, or avocado oil (depending on your personal preference and hair type), massage gently into your scalp and around the edges in small, circular motions. Regular usage of this oil blend will promote growth in thinning areas. Be sure to use a gentle massage and motion as you apply. You Can add 3-5 drops of Rosemary essential oil to encourage circulation and nerve growth.