hONEY fACE mASKS for heALTHY sKIN - dIY
hONEY fACE mASKS for heALTHY sKIN - dIY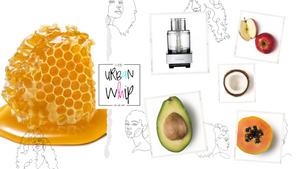 Honey gives the substance properties that can speed healing and prevent infection. The smooth, texture also keeps moisture close to the skin, which can help your complexion become supple and glowing.
Make Your Own Facial Products – hONEY Recipes
Here are some really simple DIY face mask recipes that have become very popular among honey enthusiasts. The steps and ingredients involved in each mask are so easy that you can prepare it in a few minutes. Pick one that suits your skin type and you are on your way to discovering many benefits of honey for your skin!
Simplest Face Mask With Just Honey
This is the simplest natural beauty recipe. It has only one ingredient - raw honey. It is so mild on the skin that most people especially those with sensitive skin can benefit from its gentle cleansing and purifying effects. Just apply a spoon of raw honey on the face as a mask and leave it for about 20 minutes. Rinse off. Repeat a few times a week.
For Normal Skin: Apple Honey Mask
You will need
1 Apple, cored & quartered
2 Tablespoons Honey
Instructions: Drop the apple pieces into a food processor and chop. Add honey and refrigerate for 10 minutes. Pat the mixture onto your face with a light tapping motion, tapping until the honey feels tacky. Leave it on for 30 minutes and then rinse.
For Dry Skin: Avocado & Honey Face Mask
You will need:
2 tablespoons of avocado flesh
2 tablespoons honey
1 egg yolk
avocado picture Instructions: To form this anti aging skin care face mask which also has a lightening effect, put all the ingredients in a blender, or mash by hand in a bowl. Use your fingers to spread the mask over your face and neck and leave it on for at least 30 minutes, preferably longer, before removing.
For Dry Skin: Honey and Egg Mask
You will need
1 tablespoon honey
1 egg yolk
1/2 teaspoon almond oil
1 tablespoon yogurt
Instructions: Put all ingredients into a large bowl and stir until it becomes sticky and thick. Apply the mask to your face for 5 minutes and wash face thoroughly with a mild facial soap. Honey stimulates and smoothes, egg and almond oil penetrate and moisturize, and yogurt refines and tightens pores. The egg yolk also helps to lighten up the skin.
For Tired Skin: Almond Yoghurt Honey Mask
You will need:
6oz plain yoghurt
¼oz finely-crushed almonds
2tsp honey
2tsp wheatgerm oil
Instructions: Mix all the ingredients into a smooth paste. Apply and massage the mixture into skin. Keep the mask on for 20 minutes.
For Oily Skin: Honey-Papaya Mask
You will need:
1/3-cup cocoa
three teaspoons of heavy cream
1/3-cup ripe papaya
1/4-cup honey and three teaspoons of oatmeal powder
Instructions: Mix and apply on your face. After 10 minutes, wash your face with warm water. This anti aging skin care fask mask helps heal skin blemishes, nourishes, draws out impurities, balances your skin pH, and will leave your skin radiant and soft. Good for acne-prone skin.
For Oily Skin: Carrot Face Mask
Your will need
2-3 carrots
4 1/2 table spoons of honey
Instructions: Cook the carrots and then mash them up. Mix the carrots with honey and refrigerate for 10 minutes. Apply gently to the skin and wait for ten minutes. Rinse off with cool water. Carrots are known to be rich in vitamin A and C. They are also rich in potassium. Vitamin A and C are antioxidants. Honey contains sugar, enzymes, minerals, vitamins and amino acids.
For Sensitive Skin: Banana and Honey Mask
You will need
1/2 mashed banana
1/4 cup oatmeal, cooked with milk
1 egg
1/2 tablespoon honey
Instructions: Mix ingredients together. Massage onto face in a slow, circular motion and leave for 15 minutes. Rinse with tepid water. Oatmeal is high in nourishing vitamins and minerals; it gently cleanses and heals skin. Bananas contain vitamin A; eggs contain lecithin, a natural skin emollient; and honey helps to maintain the skin's natural acid mantle.
For All Skin Types: Honey and Lavender Facial Mask
You will need:
1 tablespoon raw honey
3 drops lavender essential oil
Instructions: Mix the ingredients, dampen your face with warm water, and smooth on the honey and lavender mixture. Leave the mask on for 15 minutes. Then rinse off with warm water.
For Skin Lightening Effect (All Skin Types): Honey and Lemon Facial Mask
Your will need:
1 tablespoon honey
1 teaspoon lemon juice
Instructions: Mix the two ingredients and apply as a face mask. Rinse off after 20-30 mintues.
Healing and Repairing Face Mask for Troubled Skin
Finally, I will share with you my favourite face mask. It's incredibly easy. Get full account in: Honey Bee Pollen Face mask.
honey pollen face mask image
Here is my favourite face mask - honey and bee pollen mask. Though it's made up of just two natural ingredients, ie raw honey and bee pollen (ground to powder form), the benefits it offers are too many. Packed with vitamins, minerals, amino acids, antioxidants, this gentle mask can effectively reduce wrinkles, rejuvenate, tone, and clear skin in days. And suitable for all skin types, this mask works well in nourishing and protecting healthy skin as well as healing and repairing skin that is troubled by acne, rosacea, rash, eczema and other problems. It is an incredibly easy recipe.
All you need:
1 tsp of bee pollen (ground)
2 tsp of raw honey (Note: for a drip-free experience, creamed honey, as opposed to liquid honey is most ideal due to its viscosity)
Instructions:
1. Mix the gound bee pollen and raw honey in a bowl.
2. Apply as a facial mask.
3. Rinse the mask away after leaving it on for about 30 minutes to an hour.
4. Apply a few times a week.
Here are three aromatic honey face masks that you can easily do it yourself from home. More than delicious, these nourishing beauty treatments will surprise you with wonderful results for your skin!
(Note: Wrap a towel around your neck as the honey can drip and get sticky.)
Honey and Nutmeg Mask For Healing Acne Scars
This is a soothing, therapeutic remedy for acne scars. Its anti-inflammatory properties help prevent skin infection, reduce redness and swelling, accelerate the healing of scars and lighten scar marks when applied regularly over time. Use it for a clearer and smoother complexion.
You will need:
1 Tablespoon Honey
1 Teaspoon Ground Nutmeg
honey nutmeg mask imageInstructions: Combine the honey and nutmeg and apply the mixture to face, especially on areas with acne. Do not rub in the mask as the nutmeg may be too rough for some skin. Leave on for 30 minutes and then rinse off.
Honey and Cocoa Mask For Reviving Dull and Lifeless Skin
Pamper amd rejuvenate your skin with this anti-aging chocolate mask. This may look like a decadent facial to indulge in, but it's all worth it; its flavonoids and antioxidants will leave your face well-hydrated, soft and radiant.
You will need:
1 Tablespoon Honey
1 Teaspoon Cocoa Powder
honey cocoa mask picture
Instructions: Combine the honey and cocoa powder and apply the mixture to face and neck. Leave it on for at least 30 minutes and then rinse off.
Honey and Saffron For Treating Rough Pigmented Skin
Follow this beauty regimen a few times a week for luminous, smooth and supple skin. Teeming with anti-bacterial properties, honey and saffron is helpful in improving skin tone and reducing blemishes and pigmentation.
You will need:
1 Tablespoon Honey
1 Teaspoon Saffron
honey saffron mask picture
Instructions: Combine the honey and saffron and apply the mixture to face and neck. Massage skin in a circular motion. Leave it on for 30 minutes and then rinse off.
Purifying Honey Clay Mask
Suitable for all skin types
Nature abounds with amazingly effective remedies for the skin!
For centuries, clay is known to have the ability to bind toxins and possess numerous minerals that are nourishing and beneficial for the skin. It is used to remove debris from under the skin, reduce pore size and improve skin tone. As clay is a powered dried mud that can cause some drying of the skin, honey is a superb choice for rehydrating and combining the clay.
Ingredients:
2 tsp French green clay
French green clay naturally and effectively pulls dirt, impurities from the pores. It is helpful in killing acne-causing bacteria, preventing breakouts, and drawing out blackheads, hence a perfect option for people with acne and oily skin. It also acts as a mild exfoliator.
2 tsp raw honey
Honey in this recipe acts as a humectant, it draws in moisture and helps keep the clay from being to drying. This hydration helps to keep the skin becomes supple and soft. Honey is also naturally rich in anti-oxidant properties and vitamins to nourish and protect the skin.
Directions:
1. Clean and dry your face well.
2. Blend and combine all the ingredients using a wooden or ceramic bowl and spoon.
3. The resultant mixture should not be too runny so that it can be plastered on the face.
4. Apply the clay mixture on the face and leave it for 15 minutes. Avoid leaving the mask on the face for too long until the clay should not become pale, dry and crumbly as this can have over-drying effects on the skin and cause the skin to feel tight.
5. Wash and rinse off the mask with warm water.
6. Enjoy your smooth, nourished and rejuvenated face!
Optional nourishing ingredients:
" The raw honey can be any of any floral varietal you have on hand. Raw honey is most ideal because it is full of beneficial enzymes. For acne-troubled skin, you may wish to use Manuka honey for a stronger antibacterial and anti-inflammatory potency. It may be a costly honey choice, but fortunately we don't need that much for a face mask.
" For enhanced illuminating and hydrating results, add a drop of pure rosehip seed oil which is full of rejuvenating essential fatty acids, vitamins, and antioxidants. It is also known to be effective in correcting dark spots, patchiness and reducing scars and fine lines.
This deep cleansing purifying clay mask is suitable for all skin types. Incorporate it into your weekly beauty routine for a well smooth and brighter skin. This natural solution perks up the skin and works way better than those expensive chemicals and medicines you get from the pharmacies. Furthermore, it's such a simple recipe. This mask literally takes just a few minutes to prepare!
Facial Mask for Radiant and Youthful Skin
The mixture of honey and coconut oil benefits those with dull, lifeless or wrinkled skin as it effectively brightens complexion, hydrates deeply and adds a healthy glow to the skin. It also does wonders in helping to even out skin tone and lighten age spots.
What you need:
1 teaspoon of raw liquid honey
1 teaspoon of melted unrefined coconut oil.
Instructions:
1. Mix the two ingredients well.
2. Apply the mixture onto the face and gently message it into the skin for 2-3 minutes.
3. Leave it on for about 30 minutes.
4. Wash.
5. Apply twice weekly.
Precious Anti Aging Skin Care Tips with Honey
Concoct your own favourite beauty treats at home using honey – pampering, anti aging skin care masks that give your skin the nourishing and relaxing effect. The beauty of homemade face masks is that fresh raw ingredients are used and no additives and preservatives are added.
Honey is a great natural anti-aging skin care product. Throughout the centuries, legendary beauties like Cleopatra and Poppea, wife of Roman Emperor Nero have used raw honey as part of their skin and hair care treatments to keep them looking youthful. This natural healing agent contains an enzyme called glucose oxidase, that when combined with water, produces hydrogen peroxide, a mild antiseptic. In addition to the glucose oxidase enzyme, honey also contains antioxidants and flavonoids that may function as antibacterial agents. Honey is also a great natural moisturizer for dry and parched skin. A humectant, it is able to attract and retain moisture, and rebuild the moisture level in the skin without making it oily. Honey provides a calming effect without irritating the skin, and helps replenish necessary skin moisture, especially during the winter months. This is why the golden liquid is such a popular anti aging skin care ingredient in many commercial moisturizing products including cleansers, creams, shampoos, shower gels, and conditioners. And because it's so gentle, it is suitable for sensitive skin and baby care products.
How do Face Masks Work on Troubled Skin?
Our skin has a natural protective barrier of fats that creates a nice smooth waterproof layer to keep the moisture in and foreign substances out. The skin's ability to stay hydrated is an important factor in its ability to maintain softness, suppleness and elasticity. Unfortunately, the drying effect of the cold weather or the air con, the damaging effect of the harsh sun and pollution from the environment can cause our skin to look fatigue, dull and blotchy. And combined this with the aging of the skin, the lack of sleep and our hectic stressful lifestyle, our skin can become wrinkled, flaky and look older than it should. In addition, the use of makeup on our face also could clog the pores of the skin, preventing carbon dioxide inside our body from coming out and fresh oxygen from entering the skin. This causes the skin to lose its glow and attractiveness.
Facial masks are an ultimate nutrient delivery system in anti-aging skin care. They are much thicker than a moisturizer or topical treatment, and because of its extended application time and the inner warmth generated, pores easily open and the penetration of nutrients into the skin occurs more efficiently.
Basically all face masks have some kind of a cleansing function; they remove excess oil, environmental debris and pollutants much more gently than astringents, toners or scrubs. Various anti aging skin care ingredients are used in the face masks, depending on the skin type and to some extent on the availability of materials. Clays form an important constituent of many face masks as they are excellent absorbing agents. Gums and polymers are added to lend sticking properties to the clays. They help to remove dirt, sebum, and dead skin so that the skin looks clean, soft and youthful.
Some facials are also meant to exfoliate, clarify and unclog pores. They work by causing an abrasive action against the skin that removes the top layer of dead cells from the skin and accumulated dirt, leaving behind fresh healthy-looking skin. Regular exfoliation can reduce the appearance of lines and wrinkle and improve the clarity, tone and radiance of the complexion. Some facial masks contain antioxidants to protect against free radicals. Facial masks for dry skin hold water in the skin, making it softer and more flexible. Facial masks for oily skin often contain natural fruit extracts and hydrating marine extracts. These oil-free facial masks peel away dead surface skin cells and refine the pores.
Applying a facial mask once a week helps revitalise the skin and keeps it smooth and youthful. Normally, the face mask is applied on the cleansed skin for about ten to twenty minutes, thereafter, wash the face with lukewarm water and afterwards apply a thin layer of cold-cream or a moisturizer.