Peanut Elegance: DIY Beauty Recipes for Hair and Skin
Peanut Elegance: DIY Beauty Recipes for Hair and Skin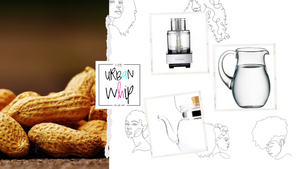 Explore the beauty benefits of peanuts with these simple and effective DIY recipes designed to enhance both your hair and skin.
1. Nourishing Peanut Butter Face Mask
Ingredients:
2 tablespoons creamy peanut butter
1 tablespoon honey
1 teaspoon plain yogurt
Directions:
Combine peanut butter, honey, and yogurt in a bowl.
Apply the mixture to your face, avoiding the eye area.
Leave on for 15-20 minutes, then rinse for a soft and nourished complexion.
Peanut butter brings its moisturizing qualities, while honey and yogurt add a gentle exfoliating and soothing touch to this delightful face mask.
2. Peanut Oil Scalp Massage
Ingredients:
3 tablespoons peanut oil
5 drops lavender essential oil
Directions:
Warm the peanut oil slightly and mix in lavender essential oil.
Massage the oil into your scalp using circular motions.
Leave it on for at least 30 minutes before shampooing.
Treat your scalp to a luxurious massage with this peanut oil blend, promoting circulation and hydration for healthier hair.
3. Peanut and Banana Hair Mask
Ingredients:
1 ripe banana
2 tablespoons peanut butter
1 tablespoon coconut oil
Directions:
Mash the banana and mix it with peanut butter and coconut oil.
Apply the mask to damp hair, covering from roots to ends.
Leave on for 30-45 minutes, then shampoo and condition as usual.
Revitalize your hair with this nutrient-packed banana and peanut butter mask, leaving it silky and manageable.
4. Peanut Sugar Scrub
Ingredients:
1/4 cup ground peanuts
1/4 cup brown sugar
2 tablespoons olive oil
Directions:
Grind peanuts and mix with brown sugar and olive oil.
Gently scrub your body in the shower using circular motions.
Rinse for smooth and exfoliated skin.
Indulge in this luxurious peanut sugar scrub to reveal radiant and rejuvenated skin.
5. Peanut Lip Balm
Ingredients:
1 tablespoon peanut oil
1 tablespoon beeswax
1 teaspoon honey
Directions:
Melt beeswax and peanut oil together.
Add honey to the mixture.
Pour into lip balm containers and allow it to solidify.
Keep your lips moisturized and kissably soft with this peanut-infused lip balm.
6. Peanut and Coffee Eye Mask
Ingredients:
1 tablespoon ground peanuts
1 tablespoon coffee grounds
1 teaspoon coconut oil
Directions:
Mix ground peanuts with coffee grounds and coconut oil.
Gently apply the mixture around your eyes.
Leave on for 15 minutes, then rinse for awakened and refreshed eyes.
Say goodbye to tired eyes with this invigorating peanut and coffee eye mask.
7. Peanut Whipped Body Butter
Ingredients:
1/2 cup shea butter
1/4 cup coconut oil
2 tablespoons peanut oil
Directions:
Whip shea butter until fluffy.
Add coconut oil and peanut oil, continue whipping.
Transfer to a jar and apply generously to your body.
Indulge your skin in this luscious peanut whipped body butter for deep moisturization and a luxurious feel.
Incorporate the goodness of peanuts into your beauty routine with these DIY recipes. From facial masks to body scrubs, peanuts bring their nourishing qualities to enhance your skin and hair care rituals. Dive into the world of homemade beauty treatments and experience the delightful benefits of this humble yet powerful ingredient.