Spotlight Ingredient: Cayenne Pepper - A Fiery Tale of Spice
Spotlight Ingredient: Cayenne Pepper - A Fiery Tale of Spice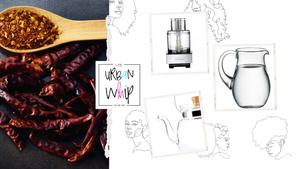 Unveiling the Origins
Geographical Roots: Cayenne pepper, scientifically known as Capsicum annuum, is a spice originating from Central and South America. Native to the tropical regions, this fiery pepper takes its name from the city of Cayenne in French Guiana.
Historical Significance: The history of cayenne pepper traces back to ancient civilizations, where it held a significant place in traditional medicine and culinary practices. Indigenous peoples, including the Arawaks and the Mayans, were among the first to cultivate and use this potent spice.
The Journey to Global Recognition
European Encounter: With the exploration of the Americas by Christopher Columbus and subsequent European colonizers, cayenne pepper found its way to Europe. Its intense heat and rich flavor quickly gained popularity, and it became a staple in various cuisines around the world.
Culinary Integration: Cayenne pepper's journey continued as it became a crucial element in the spice trade. It spread to Asia, Africa, and other parts of the world, influencing diverse culinary traditions. Today, cayenne pepper is a global spice, celebrated for its bold taste and potential health benefits.
Cayenne Pepper's Role in Traditional Medicine
Ancient Healing Wisdom: Cayenne pepper has a long history of use in traditional medicine. Ancient cultures recognized its medicinal properties, using it to address various ailments. The compound responsible for cayenne's heat, capsaicin, is believed to have therapeutic effects.
Modern Medicinal Applications: In contemporary times, cayenne pepper continues to be a subject of scientific interest. Research suggests that capsaicin may have pain-relieving properties, making it a key ingredient in some topical analgesic creams. Additionally, cayenne is often touted for its potential benefits in supporting metabolism and cardiovascular health.
Culinary and Cultural Significance
Global Culinary Presence: Cayenne pepper is a culinary chameleon, seamlessly integrating into a myriad of dishes. From spicy curries in India to Cajun seasoning in the Southern United States, cayenne's versatility knows no bounds. Its vibrant red hue and unmistakable heat contribute both flavor and intensity to dishes.
Celebratory Festivals: In some cultures, cayenne pepper takes center stage in festivals and celebrations. These events showcase the cultural importance of this spice, featuring traditional dances, music, and, of course, the vibrant and spicy cuisine.
DIY Beauty Recipes Harnessing Cayenne's Power
Cayenne Hair Growth Serum:
Ingredients:

1 tsp Cayenne Powder
2 tbsp Coconut Oil
Directions:

Mix cayenne powder with coconut oil.
Apply the mixture to the scalp for potential hair growth benefits.
Spicy Glow Face Mask:
Ingredients:

1/2 tsp Cayenne Powder
1 tbsp Honey
1 tbsp Greek Yogurt
Directions:

Combine cayenne powder, honey, and Greek yogurt.
Apply the mask, avoiding the eye area, for a rejuvenating glow.
Closing Notes: Cayenne's Fiery Legacy
As we explore the rich history and diverse applications of cayenne pepper, it's evident that this spice is more than just a culinary delight. From ancient medicinal practices to contemporary beauty rituals, cayenne's fiery spirit continues to leave its mark on cultures worldwide. Embrace the heat, savor the flavor, and let cayenne pepper spice up your life!
---