The Pink Elegance: Exploring the Wonders of French Pink Clay
The Pink Elegance: Exploring the Wonders of French Pink Clay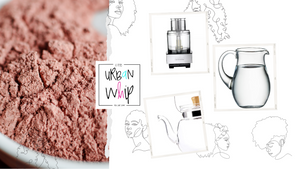 French Pink Clay, a harmonious blend of red and white clays, stands out as the mildest among its counterparts, making it a perfect match for normal, sensitive, and mature skin types. Comprising Kaolinite, Iron, Illite, Montmorillonite, and Calcite, this clay boasts a unique composition that sets it apart.
The Allure of French Pink Clay
Ideal for All Skin Types: Pink clay is a versatile choice for every skin type, particularly sensitive and dry. Enriched with minerals, it aids in restoring and replenishing the skin, locking in moisture and drawing out impurities while offering a gentle exfoliation for a radiant complexion.
Dry and Sensitive Skin: For those with dry and sensitive skin, pink clay alleviates irritation and inflammation. It promotes a healthy cell turnover, resulting in a brighter and smoother appearance, without stripping the skin's natural oils.
Dehydrated Skin: Pink clay helps dehydrated skin feel more plumped and glowing, providing essential hydration and protection against environmental aggressors such as weather and pollution.
Oily Skin: While gentle on sensitive skin, pink clay is a powerful solution for oily skin. It minimizes pores, reduces blackheads and spots, and prevents further breakouts, offering a detoxifying effect.
Detoxification in Modern Times: In an era of heightened air pollution, a weekly pink clay mask is a game-changer. Combat blackheads, spots, and enlarged pores with a 10-minute clay mask that deeply cleanses, removing grime, dirt, oil, and leftover makeup.
Gentle Approach: Unlike harsh acne and spot-fighting treatments, pink clay maintains the skin's natural barrier, pH levels, and sebum production, leaving the skin undisturbed and at its healthiest state.
French Pink Clay vs. Australian Pink Clay
French Pink Clay
Minerals: Iron, Illite, Montmorillonite, Calcite.
Benefits:

Illite: Beneficial for acne-prone skin, decongests pores, and stimulates blood circulation.
Montmorillonite: Super absorbent, gently removes excess oil without stripping the skin.
Calcite: Purifies energy, draws out toxins, exfoliates, encourages blood circulation, and rejuvenates the skin.

Origin: Harvested from the south of France, used exclusively in luxurious spa treatments.
Australian Pink Clay
Minerals: Silica, Magnesium, Selenium, Zinc.
Benefits:

Silica: Natural anti-inflammatory, locks in moisture, great for dry and eczema-prone skin.
Magnesium: Helps the skin retain natural fatty acids, providing a youthful, plumped appearance.
Selenium: Powerful antioxidant, neutralizes harmful free radicals.
Zinc: Healing for the skin, treats impurities, ideal for mature skin.

Origin: Harvested from certain areas of Australia, known for refining pores, detoxifying, and removing impurities.
Embrace the Pink Pamper
Both French and Australian Pink Clays offer a wealth of minerals and extracts, providing the best treatment for your skin. In a world filled with daily aggressors, the millennial pink allure of these products delivers a helping hand in restoring your skin to its healthiest state with an added touch of luxurious pampering.
---