aPPLE sKINCARE rECIPES - dIY
aPPLE sKINCARE rECIPES - dIY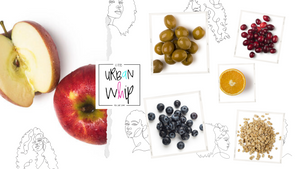 DIY Apple Facial Cleanser Recipes

Did you know apples could be used as a skin cleanser?

The big benefit with using natural ingredients is you know exactly what is going into your cleanser and subsequently onto your skin. Smooth supple skin can be yours by incorporating apples into natural skin care products made at home.
Apples contain potent antioxidants: And hence prevent cell and tissue damage (goodbye wrinkles, sagging and premature aging!), while protecting the complexion against environmental exposure. Just make certain you don't peel off the skin – that's where most antioxidants reside.

Apples have skin boosting fibres: These delicious fruits (which, incidentally, are members of the rose family) have high doses of collagen and elastin to keep our skin soft, smooth and plumped up.

Apples are astringent and toning: Apple juice balances the skin's pH levels, gets rid of surface bacteria and regulates sebum (natural oil) production. The result? Healthy, glowing skin sans signs of stress, fatigue, acne or greasiness.

Apples offer UV protection: While they won't be replacing SPF anytime soon, apples provide extra protection against the sun. They can even treat sunburns most effectively.

Apples restore hair health: A compound called procyanidin B2, which is commonly found in apples, keeps locks long and glossy.

Apples are chockfull of vitamins: Green apples, in particular, are dense with vitamins A, B and C, which have a terrific whitening and nourishing effect on the complexion.

Apples fight infections: In addition, apples contain immunity-boosting pectin, which helps fight all kind of skin infections, including chronic acne.


Skin Basics Starts With Cleansing

Daily use of a cleanser is vital for effective skin care. Fresh healthy skin will be your reward.
The Skin and Cleansing ~

The skin is the largest organ of the body and is exposed for all to see on our face, nowhere to hide!

The face is often the first place of visible aging, a process which is inevitable to us all and using a cleanser is the first step in anti aging skincare.

Importance of Facial Cleansers ~

Removes build up of dead skin cells
Removes makeup
Effectively removes daily grime and dust particles
Prevents blocked pores
Aids in blackhead and whitehead prevention
Delays premature aging

Ingredients from the cupboard

Red apples or green apples, they are both suitable for skin cleansers.
honey adds suppleness and a great natural moisturiser.
Italian Olive Oil extremely beneficial to the skin
freshly squeezed orange juice does wonders for the skin.
dIY aPPLE cLEANSER rECIPE 


Suitable for Oily Skin:

2 -3 slices of apple
2 tbsp milk
1 tsp honey


Instructions:

Pop your apple slices in the blender and blend until in juice form.
Take a tbsp of the juice and mix well in a bowl with the milk and honey.
Apply to the face and gently massage in well for 2-3 minutes, avoiding the eye area.
Rinse off with tepid water or gentle remove with pre-soaked cotton wool pad.


dIY aPPLE fACIAL cLEANSER rECIPE 

1 slice of an apple
2 tbsp plain yogurt
1 tsp freshly squeezed orange or lemon juice
1 tsp olive oil


Instructions:

Blend all ingredients together in a blender until it is a creamy, smooth paste in appearance.

Remove and apply to the face, avoiding the eye area.

Gently massage in and leave for 4-5 minutes. Rinse off with tepid water or gently remove with pre-soaked cotton wool pad.

May be stored up to 3 days however to benefit fully from the active ingredients, I would recommend using within a day.

Word of Caution – Please do not use any of the recipes listed if you have or suspect a food allergy to any of the ingredients used or are prone to hyper sensitive skin. Do consult a doctor before using.
Tone it up: Purify oily, blemish-prone skin and perk up stressed-out complexions

Core and de-seed a green apple but leave the peel on. Cut it into small cubes and combine with half a cup of lukewarm water in a saucepan; bring to a boil. Remove from heat and allow to cool completely then strain through a fine sieve to remove the pulp. Stir in 1/4 cup of witch hazel and apply the mixture to your face with a cotton ball, like a toner.


Light & bright: Deliver a powerful dose of skin lightening tannins, enzymes and vitamin C to even out the skin tone

Puree an apple in a food processor. Add the rind of half a lemon and 2 tablespoons powdered milk; blend until smooth. Apply this all over the face; leave for 15 minutes, then rinse off.


Scrub & go: Gentle exfoliation

Combine equal amounts of pureed apple (or unsweetened applesauce) and wheatgerm to make a paste. Apply on clean face; once its dry (around 10 minutes), rinse with warm water.


Skin soother: Soothe and nourish the skin

Combine half an apple (cored, and grated), 2 tablespoons rolled oats, 2 teaspoons cream and 2 teaspoons honey; mix thoroughly. Apply the mixture to clean face; allow to remain on skin for 10 minutes then rinse with warm water using gentle circular motions.
Skip the spots: Helps heal chronic acne

Mix equal parts grated raw apple and honey. Apply mixture to a clean face and let it remain on skin for 10 minutes. Finally, rinse off with cool water.

The wrinkle buster: Reduce wrinkles and inflammation

Grate an unripe apple and apply the pulp to freshly washed skin. Let it remain for 20 minutes before rinsing off with warm water.


Raw and Organic is Best

Apple Cider Vinegar in Skincare ~

Apple Cider Vinegar is an incredibly useful ingredient to have in the home for skincare use.

Fast becoming the most popular alternative health remedy, apple vinegar for skin is a highly effective treatment for acne or blemishes, particularly prevalent in teens but may also be experienced in later years.

The apple cider vinegar contains antibacterial properties which dries up and kills the bacteria that cause acne and it also balances the ph balance of the skin, eliminating the dreaded spots or blemishes.



Benefits and Uses of Apple Cider Vinegar ~

When used in a 50/50 ratio with water, it is commonly used as a facial skin toner.
Effective for easing sunburn.
Reduces Acid Reflux.
Contains the nutrients iron, calcium, potassium, magnesium, phosphorus and copper in raw cider vinegar.
Caution should always be used near the eyes as it is highly astringent.

Face Toner and a Hair Brightener with Apple Cider Vinegar


Recipe with Apple Cider Vinegar ~

Using the best raw, organic variety is best for use on the skin and easily bought from health food stores, supermarkets and online. Only 2 ingredients -

Water and Apple Cider Vinegar

Start with 1 part apple cider vinegar to 3 parts water.

You may increase the ratio after using this measurement awhile but do not exceed a 1-1 ratio (50%) as it is strong with astringent qualities.

Mix together in a small clean plastic spray bottle or small jar by giving it a good few shakes.

Lightly soak a small piece of cotton wool in the solution and dab on the acne or blemish.

Let dry for 5-10 minutes before rinsing the face in cold water.

This may be done up to 3 times a day. You may increase the time you leave on the skin but do not leave indefinitely and remember to rinse in cold water.

Word of Caution – Apple Cider Vinegar is highly potent and should be used with care. If skin is highly sensitive or prone to food allergies, always consult a doctor for advice before using.