aPPLE ciDER sKINCARE rECIPES - dIY
aPPLE ciDER sKINCARE rECIPES - dIY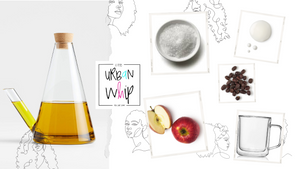 Apple Cider Vinegar is an incredibly useful ingredient to have in the home for skincare use.
Fast becoming the most popular alternative health remedy, apple vinegar for skin is a highly effective treatment for acne or blemishes, particularly prevalent in teens but may also be experienced in later years.
The apple cider vinegar contains antibacterial properties which dries up and kills the bacteria that cause acne and it also balances the ph balance of the skin, eliminating the dreaded spots or blemishes.
Benefits and Uses of Apple Cider Vinegar ~
When used in a 50/50 ratio with water, it is commonly used as a facial skin toner.
Effective for easing sunburn.
Reduces Acid Reflux.
Contains the nutrients iron, calcium, potassium, magnesium, phosphorus and copper in raw cider vinegar.
Caution should always be used near the eyes as it is highly astringent.


Face Toner and a Hair Brightener with Apple Cider Vinegar

Recipe with Apple Cider Vinegar ~

Using the best raw, organic variety is best for use on the skin and easily bought from health food stores, supermarkets and online. Only 2 ingredients -

Water and Apple Cider Vinegar

Start with 1 part apple cider vinegar to 3 parts water.

You may increase the ratio after using this measurement awhile but do not exceed a 1-1 ratio (50%) as it is strong with astringent qualities.

Mix together in a small clean plastic spray bottle or small jar by giving it a good few shakes.

Lightly soak a small piece of cotton wool in the solution and dab on the acne or blemish.

Let dry for 5-10 minutes before rinsing the face in cold water.

This may be done up to 3 times a day. You may increase the time you leave on the skin but do not leave indefinitely and remember to rinse in cold water.

Word of Caution – Apple Cider Vinegar is highly potent and should be used with care. If skin is highly sensitive or prone to food allergies, always consult a doctor for advice before using.