cUCUMBER iN hAIRcARE - dIY
cUCUMBER iN hAIRcARE - dIY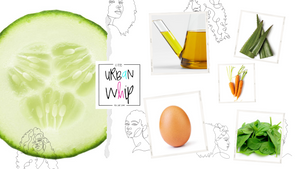 Cucumber is well known globally for its numerous nutritional benefits to the skin, nails, and hair. This crunchy and lightly flavored fruit has been used, not just as an edible vegetable, but as an organic beauty product that took the beauty industry by storm a few years ago.

Women that suffer from hair growth problems can find solutions with cucumber, either by eating it or making a hair moisturizer with it. Cucumber contains a special component known as silica which fights various hair loss problems, stops hair from falling off, and accelerates hair growth.

Just as eggs and honey can be used to prepare a cucumber hair moisturizing mask, you can also combine cucumber with other vegetables like carrots, lettuce, and spinach. Combining cucumber juice with the juice of these other vegetables produces faster and better results both in the volume and length of your hair.

cUCUMBER tONIC
Here's a simple cucumber recipe to make your hair grow fast. This recipe is for preparing cucumber tonic.

Ingredients:

Cucumber Juice;
Juice from a vegetable of your choice (spinach, carrot or lettuce).


cUCUMBER hAIR mASK

If you want to invest in a cucumber moisturizing mask for your hair, get the ingredients and follow the steps below to guide you on how to make the mask.

Ingredients:

1 egg;
½ peeled cucumber;
1 tablespoon olive oil.
Blend all the ingredients together in a blender thoroughly. After they have been properly mixed, strain the mixture to separate the chaff from the mask. Then apply the cucumber hair mask on your scalp and hair strands and leave it for 20 minutes before washing off.

The egg and olive oil are added to the cucumber mask to make it more potent and nutritious to the hair. Using cucumber alone to prepare the hair mask is not entirely a bad idea, but it will not be as potent as a mask prepared with egg and olive oil.

These two ingredients, egg and olive oil, are rich in vitamins, minerals, and other contents that help to keep the hair healthy. Olive oil comprises four major vitamins (A, D, E, and K), which nourish, moisturize, brighten, and protect the hair from damage. These vitamins also soften the hair and make it more elastic. As for the eggs, it helps to rebuild damaged hair, prevent hair loss and also accelerate hair growth. It is components include vitamins A, D, K, and B vitamins. Eggs also contain iron, manganese, phosphorus, potassium, calcium, and sodium.

There is another simple method for making cucumber hair tonic at home. Extract the juices of cucumber and any vegetable of your choice and mix them together in equal parts. Then, gradually apply the tonic to your scalp and your hair shaft, making sure to moisten your hair completely with the tonic. Leave the tonic to sit for about 10 minutes, then wash it off as you'll usually wash your hair.
Cucumber Rinse

For a more basic cucumber rinse, all you need to do is puree cucumber in a blender or food processor. Apply the cucumber puree (including the seeds) to your hair, starting with the scalp and extending to the ends of your hair. Gently massage your scalp as you use water to rinse out the cucumber.

If you don't want to add any new steps to your hair care routine, consider swapping out your current shampoo and conditioner for ones with cucumber oil as a key ingredient. This is an easy way to incorporate the benefits of cucumber without requiring any additional time and effort.
Cucumber is rich in a lot of natural resources like:


Vitamins; A, B, C, and K
Calcium
Magnesium
Potassium
Phosphorus
Zinc
Fluoride
Silica
Water
These natural components of cucumber contain essentials elements that are great for the hair, skin and, general human health. One amazing effect of cucumber on human hair is that it facilitates hair growth at a really high rate. It can also be used by people that suffer hair loss and baldness to recover their hair to a beautiful and healthy state.

Asides from facilitating hair growth, the use of cucumber on the hair can nourish, strengthen, hydrate, and improve the health of the scalp. If you suffer hair dryness, you may want to try out cucumber moisturizer to help replenish your hair moisture to avoid split ends, and breakages, especially when the weather condition is hot and dry.