dIY rECIPE - pAPAYA + sTRAWBERRY mASK
dIY rECIPE - pAPAYA + sTRAWBERRY mASK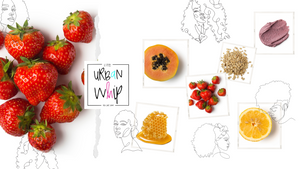 Who is up for another DIY Recipe? 
dIY rECIPE - pAPAYA + sTRAWBERRY mASK
This mask is a great way to naturally exfoliate the skin. All fruits
have varying levels of juice -- some are really juicy and some are not. If you make this recipe according to the instructions and it seems too watery to use, add a bit more oats. If it seems dry, add a bit more water or lemon juice so it more easily spreads across the skin.
Yield: 1 application
Prep Time: 15 minutes
Shelf Life: None, keep refrigerated
Ingredients:
1/2 ripe papaya
4 strawberries
1 tablespoon rolled oats
1 teaspoon honey
1 teaspoon fresh lemon juice
Grind rolled oats in a coffee grinder or small food processor until powdered. Set aside.
Cube papaya and strawberries and process in small food processor or blender until smooth. Set aside.
Warm honey gently until it flows freely; do not boil it.
In a small bowl, combine all of the prepared ingredients and mix well.
To use, apply mixture to face and let stand for 10 to 15 minutes. Rinse well with warm water and follow with moisturizer.