Strawberry Surprise DIY Face Mask
Strawberry Surprise DIY Face Mask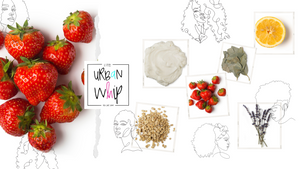 This is a lovely, fruity mask to really wake you up in a morning. It's especially nice for teen skin since strawberries make a
great natural astringent and the lemon scented tea tree oil is not only fragrant, but a great oily skin toner! This recipe makes a lot of product so you can cut it in half if you want. As always, remember that you can omit the essential oils if you'd like.
Yield: 1 application, or more if used on more than just face
Prep Time: 10 minutes
Shelf Life: None, keep refrigerated
Ingredients:
6 to 8 strawberries
1 cup plain yogurt
1 cup finely ground oats
1 tablespoon mint leaves, cut and sifted
4 drops lavender essential oil
2 drops lemon scented tea tree essential oil
Mash the strawberries well with a fork until they are crushed and runny. You can process them in a food processor if you like.
Mix together the yogurt and oats. Then add the mashed strawberries.
Add the mint leaves and mix well. Add essential oils last and stir well to mix. Refrigerate until cold.
When Strawberry Surprise Face Mask is cold, spread evenly onto clean face and neck area. Place thinly sliced cucumber over your eyes, and leave on for 10-15 minutes.
When finished, rinse off with lukewarm water and pat face dry with a towel. Apply moisturizer as usual. Your face should feel lovely and refreshed!
After treating your face, refresh your hands, forearms and elbows with a bit of the mask. Scrub well to invigorate and exfoliate. Rinse well and follow with rich hand lotion. Refrigerate any leftover mask and use within 3-4 days.