fENUGREEK hAIRCARE rECIPES - dIY
fENUGREEK hAIRCARE rECIPES - dIY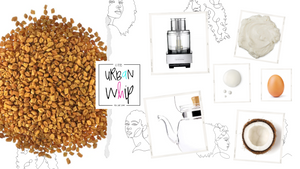 Does Fenugreek Help Hair Growth?
Fenugreek is a great source of vitamins-A, B, C, K, protein, iron, calcium, potassium, phosphates, folic acid, saponins, flavonoids, and many other components that are essential for healthy hair growth. Also, it has powerful antifungal and anti-inflammatory effects that maintain a healthy scalp environment thereby promoting stronger hair growth.

Benefits Of Fenugreek Seeds For Hair

1. Prevents Hair Loss
Fenugreek contains lecithin, which acts as a natural emollient that conditions and moisturizes your scalp and hair deeply. Also, it makes your hair stronger from the roots by providing rich nourishment. Thus, it controls hair shedding efficiently.

2. Revives Damaged Hair
Fenugreek is a great source of protein and amino acids, which help repair the hair shaft damaged due to dehydration, heat styling, chemicals, sun damage, or color treatments. It boosts the cuticle integration in your hair shaft, thus promoting thicker hair growth.

3. Fights Dandruff
The natural saponins present in fenugreek have rich antifungal and antibacterial properties that keep the microbial infections on your scalp at bay.' Thus, fenugreek helps in combating dandruff and itching by controlling the infection-causing bacteria and yeast on your scalp.

4. Controls Scalp Inflammation
Fenugreek has rich anti-inflammatory properties that reduce inflammation and pain in your hair roots. Also, it contains natural antioxidants that help in fighting off the oxidative stress caused by free radicals in your hair follicle cells. Thus, fenugreek helps in strengthening hair roots and boost stronger hair growth.
5. Adds Shine And Soft Texture
Fenugreek contains mucilaginous fiber that absorbs moisture tremendously. Thus, fenugreek helps in maintaining the moisture barrier in your hair strands, in turn, improving the shine and imparting softer texture.

6. Prevents Premature Grey Hair
The rich content of iron and potassium present in fenugreek helps you deal with premature greying problems efficiently. Fenugreek balances the deficit of minerals required for sufficient melanin production in your hair follicles, which gives the dark color to your hair naturally.

Recent studies revealed that fenugreek helps in controlling DHT hair loss in men and women.


dIY fENUGREEK hAIRcARE rECIPES:

1. Fenugreek Hair Oil

Add a spoon of fenugreek seeds into a cup of coconut or sesame oil. Heat the oil on a low flame until the seeds turn brown. Let the oil cool down and store it in a glass container. Use the oil to massage your scalp and hair twice or thrice a week an hour before hair wash.


2. Fenugreek Hair Conditioner

Soak two spoons of fenugreek seeds overnight and grind them into a fine paste. Add 1 egg yolk and 1 spoon of fresh yogurt into it. Mix well and apply the paste as a deep conditioning mask twice or thrice a week.

You can also add a spoon of fenugreek paste into a cup of coconut milk and apply it thoroughly to your scalp and hair. Cover your hair with a warm towel for half an hour and then wash it off with an Ayurvedic shampoo.
3. Fenugreek Shampoo

Soak a handful of soap nuts (shikakai), soapberries (reetha), dried amla (Indian gooseberry), and fenugreek seeds each in 1 liter of water overnight. The next day, boil the water with ingredients until the quantity becomes half. Let it cool down and strain the decoction into a clean container. Use the decoction as your herbal shampoo twice or thrice a week.

4. Fenugreek Hair Rinse

Soak 2-3 spoons of fenugreek seeds in a jar of water overnight. After shampooing your hair the next morning, discard the seeds and give your hair a final rinse with a jar of methi water. This gives your hair increased softness and luster.

5. Fenugreek Hair Mask

Soak 1-2 spoons of fenugreek seeds overnight and grind them into a fine paste the next morning. Add a spoon of lemon juice to it and apply it as a hair mask. After half an hour, rinse it off using warm water. This is suitable for any hair type.
Soak 1 spoon of fenugreek seeds in 2 spoons of apple cider vinegar overnight. The next morning, apply it to your scalp and hair. Leave it for half an hour before washing it off using an Ayurvedic shampoo. It is best for people with excessively oily hair.