pUMPKIN sKINCARe rECIPES - dIY
pUMPKIN sKINCARe rECIPES - dIY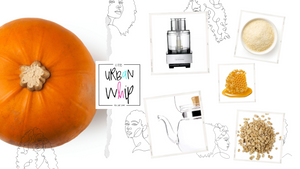 Pumpkin: A Natural Wonder for Skin and Hair Care
Pumpkin, more than just a staple in the autumn kitchen, is a treasure trove of skin and hair benefits. Here's a look at why pumpkin is a superb choice for natural beauty treatments and some easy DIY recipes to try.
Skin and Hair Benefits of Pumpkin
Natural Exfoliation: Pumpkin's fruit enzymes and AHAs aid in cell turnover, promoting brighter, smoother skin.
Rich in Antioxidants: Vitamins A and C in pumpkin help soften the skin, boost collagen, and combat signs of aging.
Zinc for Acne: Zinc regulates oil production and hormone levels, making it beneficial for acne-prone skin.
Hydrating and Nourishing: Essential fatty acids and Vitamin E in pumpkin seeds protect and hydrate the skin.
Deep Penetration: Its small molecular structure allows it to deeply treat dull complexions, aging skin, and pigmentation.
Pumpkin Face Mask Recipe
For a quick way to brighten and smooth your skin, try this pumpkin face mask:
Ingredients:
2 Tbs cooked pumpkin
1 Tbs honey
1 Tbs finely ground oatmeal
Directions:
Mix all ingredients into a smooth paste.
Apply evenly on your face, avoiding the eye area.
Leave for 10-15 minutes, then rinse off.
Enjoy the result of smooth, hydrated, glowing skin.
Additional Pumpkin Recipes for Skin and Hair
Facial Mask for Oily Skin: Mix 1/4 cup pumpkin puree with 1 tablespoon apple cider vinegar and a whole egg. Apply for 20 minutes and rinse.
Facial Mask for Dry Skin: Combine 1/4 cup pumpkin puree with 1 teaspoon olive oil, 1 teaspoon honey, and a whole egg. Leave for 20 minutes and rinse.
Facial Scrub: Blend 1 cup of pumpkin, 2 tablespoons brown sugar, 1 tablespoon honey, and 1/2 cup yogurt. Apply, let sit for 10 minutes, then rinse.
Pumpkin Hair Mask: Mix 1 cup pumpkin with 1/2 cup plain yogurt and 1 tablespoon honey. Apply to hair, cover, and rinse after 30 minutes.
Pedicare Foot Wrap: Massage a mixture of 1/2 cup pumpkin puree, a whole egg, and 1 teaspoon honey into feet. Wrap for 15 minutes and rinse.
Salt Foot Scrub: Create a paste with 1/2 cup pumpkin puree, 2 tablespoons olive oil, and salt. Scrub feet, focusing on dry areas, then rinse.
Hand Mask: Treat hands with a mix of 1/4 cup pumpkin puree, 1 teaspoon almond or olive oil, and 1 teaspoon honey. Massage and rinse.
Conclusion
Pumpkin is a versatile and effective ingredient for natural beauty care, offering numerous benefits for the skin and hair. Its nutrients and antioxidants make it a perfect choice for homemade treatments, providing a natural and soothing approach to beauty care. Whether it's for moisturizing dry skin, treating acne, or revitalizing hair, pumpkin's natural properties are a boon for those seeking organic beauty solutions.