pOMEGRANATE bENEFITS iN hAIRCARE
pOMEGRANATE bENEFITS iN hAIRCARE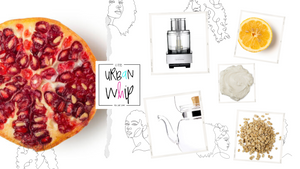 Using pomegranate directly on your scalp can help stimulate hair growth, reinforce hair follicles and keep the scalp clean and healthy. Resulting in a thicker head of hair. It can be applied directly to your hair after using hydrating treatments. This will seal in and deeply nourish the hair and scalp.
Hydrating hair mask
The punicic acid in pomegranate helps to strengthen the hair follicles and stimulates circulation. It deeply conditions the hair and cleanses the scalp. It is really effective for frizzy and dry hair. It also promotes hair growth.

How to use: Take a cup of yogurt and pomegranate seeds with a teaspoon of lemon juice. Grind them into a smooth paste and apply it on your scalp and roots. Let it stay for half an hour and wash it thoroughly. It will hydrate your hair making them appear flawless.