pOMEGRANATE bENEFITS iN sKINCARE
pOMEGRANATE bENEFITS iN sKINCARE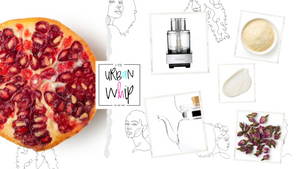 Facial scrub
Pomegranate is helpful in removing dead skin cells. It helps to remove blackheads and whiteheads. It doesn't cause any irritation because it's anti-inflammatory.

How to use: All you need to do is take sun dried and powdered pomegranate peel in a bowl according to your need and add brown sugar to it. You can also add 1 teaspoon honey and any essential oil to make a paste. Massage it thoroughly on your face and later rinse it off with water. Your skin will feel soft and supple after scrubbing it. Apply a toner and moisturiser once you're through.
Anti ageing mask
Pomegranate peel is really beneficial for keeping wrinkles at bay and it delays ageing.

How to use: Take a teaspoon of pomegranate peel powder and add a few drops of milk to it. Mix them well and apply it on your face. For oily skin, you can add rose water instead of milk. Let it dry and wash it with lukewarm water. You can use this mask twice a week for better results.
Pomegranate peel mask and scrub
Don't ignore the peel of pomegranate as it is the best for the prevention of breakouts and acne. It promotes cell growth by preventing breakdown of collagen. It works well for treating stubborn pimples and acne scars. It is a natural exfoliant containing sun blocking agents that protect your skin from harmful UV radiations.

How to use: You can sun dry the peel before using it. Once it is dried, grind them into a powder for use. You can make a mask by adding it with honey and lemon. You can also use it as a scrub on your face and other body parts.


Skin brightening face mask
The arils of pomegranate have a tendency of brightening your skin tone. It nourishes your skin from within and lightens all the blemishes and scars. This pack will help to exfoliate your skin and keep it bright. It is really effective for tanned skin. Repeat this twice a week before bedtime for the best results.
How to use: Add 2 tablespoon of honey and the seeds of 1 pomegranate into a bowl. Also add a cup of oat meal and 100 ml buttermilk. Grind all the ingredients into a smooth paste. Apply it evenly on your face and neck. It can be also applied on the elbows and knees. Let it stay for 10 minutes and later rinse it with lukewarm water.