wHY gO dRY?
wHY gO dRY?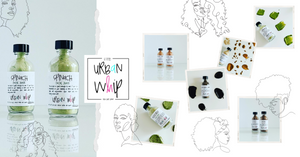 Why Go Dry?
When water is introduced to a mixture it can grow mold and bacteria. Body care products that you buy commercially contain a hefty dose of harsh broad spectrum preservatives to give them a longer shelf life. Making these ingredients available to you in the dry powder form allows for a completely natural product with a great range of versatility.

Mixing Ideas:
Dry: Cream, milk, aloe juice, pureed avocado or banana, honey, egg whites
Combination: Milk, yogurt, soy milk, honey, green tea, pureed cucumber
Oily: Yogurt, green or black tea, pureed cucumber, Strawberry juice, Tomato juice
Acne: Yogurt and honey, nonfat milk, green or black tea, pureed cucumber, pureed strawberries or apples
Normal : Any of the above

This recipe is good enough to eat, but actually it's for your skin. Use this gentle and yummy organic fruit cleanser plus facial mask if your face is dehydrated or just looking a little dull, this facial mask, will rejuvenate your skin and leave it feeling extra soft. 100% Natural this product is made from the finest, organic materials without using any chemicals, fragrances or preservatives that may be harmful and stress on your skin. This fabulous mask will make your skin as soft as a baby's! That's because yogurt contains lactic acid and is an excellent to exfoliate dead skin cells from your face, leaving it smooth and soft.

Your skin's pores are constantly accumulating environmental pollutants and grime; a good deep cleaning can usher back a radiant glow. Completely natural and incredibly pure, this masque uses the best Mother Nature has to offer to cleanse and restore suppleness. And did we mention real fruits and cream? Yum!

Directions: Create a thin paste by mixing 1/2 teaspoon with the dry mask with 1/4-1/2 teaspoon of a liquid of your choice (cream, honey, yogurt, aloe vera juice, distilled water, tea, pureed fruit or vegetable. I personally LOVE warm heavy cream. massage mask in a circukar motion and let sit until you are ready to rinse off! Follow by a steam facial and light moisturizer.

Mask comes in a ONE 2oz glass jar with a mini wooden scoop for easy dispensing – enough for 20-25 treatments! This mask should be used once a week.