hAIRfOOD rECIPES uSING cLOVE - dIY
hAIRfOOD rECIPES uSING cLOVE - dIY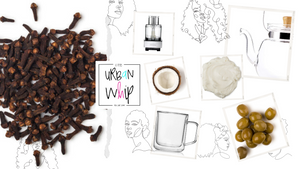 Clove promotes hair growth and reduces hair fall too. It helps to solve the problem of hair thinning. It keeps scalp fresh and reduces scalp infection. It also provides a cooling sensation and keeps you fresh. It adds some nice and fresh smell to your hair. As it is full of antioxidants, it acts as a conditioner. It keeps hair smooth and makes them manageable, imparting a decent shine.

Recipes:
1. Apply clove oil with some coconut oil directly on your scalp. It helps to reduces stress and keeps your hair fresh.
2. Add 2 drops of clove oil with your shampoo. It keeps you fresh all long day. And also adds a nice fresh smell to hair.
3. Make a hair mask for thick hair. Makes a paste of 2 tablespoon of yogurt and 1 spoon of olive oil. Add ½ tablespoon of clove paste to the mixture. Now, add some honey to the paste. Combine all the ingredients nicely. Apply the mask all over your hair. Keep it on for 30-45 minutes. Then rinse with normal water.
Here's how to make a hair rinse from cloves:

Boil 2 cups of water in a saucepan. Lightly muddle 10 cloves and add them to the boiling water. Add 1 twig of curry leaves to the pan. Once boiled, remove it from the heat. Cool it down before use. You can also store this rinse in the refrigerator for a week. Rinse your hair with this potent hair growth water as the last step of your hair wash routine.
If you want to increase your hair growth, then you need to try these hair masks.

hAIR mASk rECIPE #1
Using cloves can turn things around for you. It promotes hair growth with instant results. This kitchen ingredient also contains antimicrobial and anti-inflammatory properties that can prove beneficial for your scalp.

Yogurt, on the other hand, cleanses the scalp and clears away the dead skin cells. It further facilitates hair follicle growth. Adding olive oil can bring softness and strength to your hair while, honey can preserve the natural moisture.

Method

Take 2 tablespoons of plain yogurt.
Take 1 tablespoon of olive oil.
Take 1/2 tablespoon of clove paste.
Combine all of these ingredients in a bowl and make a paste.
You can also add some honey to the mixture. Mix well.
Now, apply the hair mask to your hair and scalp.
Leave it on for about 30-40 minutes.
Rinse it off with normal water at room temperature.
Apply this hair mask once a week to achieve the desired results.
hAIR mASK rECIPE #2
Clove oil is blessed with powerful antiseptic and anti-fungal properties that can help you in getting rid of dandruff and all the itching and dryness associated with it.

While, the antioxidants present in curry leaves moisturize the scalp and remove dead hair follicles. These leaves have high beta-carotene and protein content which helps in preventing hair loss and thinning of hair. Coconut oil further helps in preventing flaky scalp as well as split ends and hair breakage.

Method

Start by grinding 20-25 curry leaves to a fine powder.
Then, boil 1 cup of coconut oil on your stove and add the curry leaf powder to it.
After the mixture boils, remove it from the flame and keep it aside to cool down.
Then, strain the oil mixture and add 6-7 drops of clove oil to it. Mix it well.
After that, apply the mask to your hair and scalp. Leave it to rest overnight.
On the next day, wash it off with a mild shampoo.
For best results, apply this mask at least once a week.